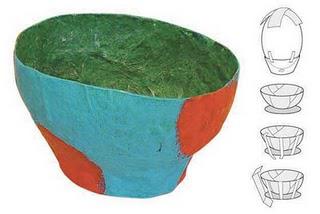 Paper-mache projects can work really well with any upcoming Earth Day themes. My favorite recipe for the mache is included below.

1. Tape a balloon to a heavy bowl so that is doesn't move. Apply strips of newspaper covered in mache in both directions. Apply 2 - 3 layers. Allow to dry for several days.
2. When the bowl is dry and hard, pop the balloon if it hasn't already done so. Trim the edges of the bowl evenly with a scissors.
3. Tape a round cardboard circle to the bottom of the bowl with lots of masking tape. Apply several layers of newspaper in all directions.
4. When the bowl is dry and hard, apply a final layer of paper towel strips covered in mache.
5. When the bowl is dry, apply acrylic paint in a creative fashion. Lastly, cover with a coating of Mod Podge to protect the surface.

This bowl was made by a 1st grader.


Paper Mache Recipe:
1 cups all-purpose flour
4 cups cold water
4 cups boiling water
1/2 cup sugar
In a bowl, combine the flour and cold water. Add to the saucepan of boiling water and bring to a boil. Remove from heat and stir in the sugar. Let it cool; it will thicken as it cools. Once it does, it is ready to use.