At first glance, the papaya is an eyesore.  Its knobby texture and gourd-like shape resemble an ancient Greek sculpture of phallic proportions, buried under centuries of Mediterranean dust and soot and other things that remind us of death.  It's probably the most disgusting looking item in the produce aisle.
If you happen to find a papaya in your grocery basket – either by accident or out of plain curiosity – you're in for a real surprise.  Because underneath that knobby layer of brown-green skin is another world, undiscovered or ignored by the masses in favor of cantaloupe and watermelon and other, prettier fruits.  It's a world of velvety-smooth sweetness and flowery musk.  Complex and unparalleled flavors that earn the papaya its controversial reputation, like an aggressive Malbec in a world of boring Merlots.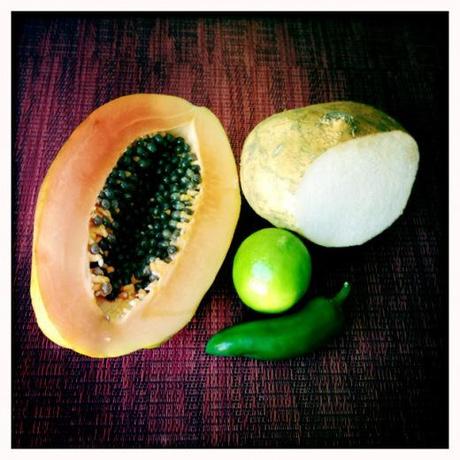 Papayas are native to the tropics of Latin America, and were first cultivated in Mexico several thousand years ago.  They are often served fresh in salads, salsas, and beverages like agua fresca.  A squeeze of fresh lime juice takes the papaya experience to another level, adding a touch of acidity that brightens the fruit's earthy flavors.  Our papaya salad includes a few other Latin ingredients like red onion, jalapeño, coconut, and jicama.   The addition of fresh mint – typically used in Middle Eastern cuisine – tempers the spiciness of the raw jalapeño.  The result is a Latin shakedown of flavors and textures: soft and sweet one moment, crunchy and hot the next.  A balance of opposites meditating on the tip of your tongue.  Screaming Eastern wisdom via the Western palate.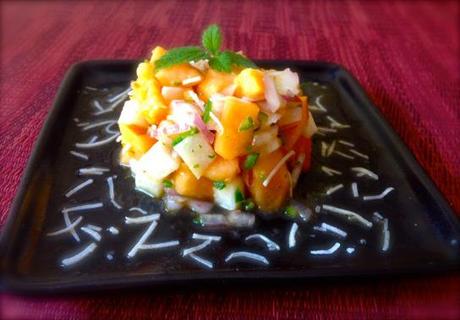 Ingredients:
1 cup fresh papaya
1/2 cup jicama
1/4 cup red onion
1/2 jalapeno
3 tbsp fresh mint
juice of 1 lime
2 tbsp coconut
1 tbsp extra-virgin olive oil
sea salt
Directions:  Chop the papaya, jicama, red onion, and mint.  Seed and dice the jalapeño.  Place ingredients in a mixing bowl and toss with lime juice.  Sprinkle with coconut, olive oil, and sea salt immediately before serving.