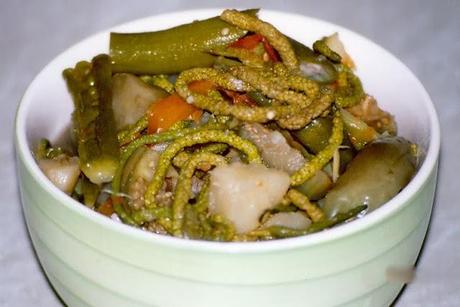 Ingredients:
1/2 Kg of pork diced3 pc small round bitter gourd (ampalaya) sliced in half5 pc okra sliced3 pc kamote5 pc winged bean (sigarilyas) in halves100 gr Baeg5 pc round eggplant sliced in half7 pc tomato diced1/2 cup fish sauce2 pc garlic minced1 cup rice wash water
Procedure:
Put in the casserole the tomatoes, eggplant, bitter gourd, pork, rice wash water. Let it boil.
Add fish sauce while it boils with garlic, okra, winged bean, baeg. Cover and let it boil and taste.
When the vegetables turn dark green and brownish means all read to serve.