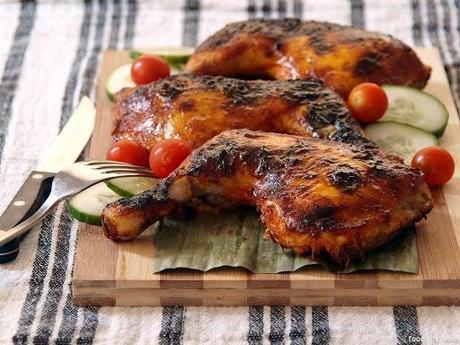 Ingredients:
4 chicken thighs with legs
(Marinade)
1/2 thumb sized ginger, peeled
6 cloves garlic, peeled
4 stalks lemongrass, white part
1 1/2 cups coconut vinegar
1/2 cup lemon juice
1/4 cup fish sauce
3 tbsp brown sugar
1 tsp baking soda
freshly ground black pepper
(Basting Sauce)
2 tsp annatto powder
1/2 cup butter
juice from 2 lemons
1/2 tsp salt
Procedure:
1. In a food processor mix all marinade ingredients except for the baking soda.
2. Pierce chicken pieces with fork then place in an airtight container. Pour over the marinade and the baking soda in the chicken while massaging the meat. Cover container then marinate for at least 6 hours.
3. In a sauce pan mix together all basting ingredients and simmer in low heat for 2 minutes. Set aside.
4. Prepare a charcoal grill then cook chicken while occasionally basting it with the butter sauce until cooked.
Posted via Blogaway