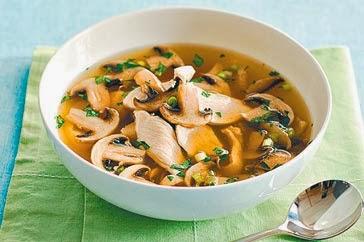 Ingredients:
6 cups chicken stock
2 tablespoons sherry
200g sliced button mushrooms
2 single chicken breast fillets, trimmed and thinly sliced
salt and cracked black pepper
2 tablespoons chopped flat-leaf parsley
Method:
Place chicken stock and sherry in a large saucepan over medium-high heat. 

Simmer for 5 minutes, then add mushrooms and cook for another 3 minutes. 

Add chicken and cook for 3 minutes or until cooked through. 

Season with salt and pepper and stir in parsley. Serve immediately.