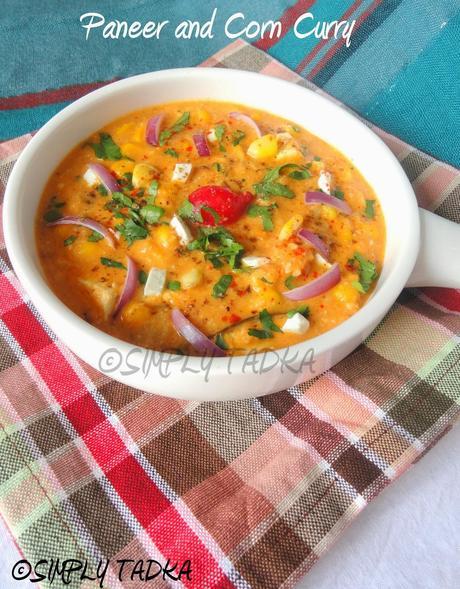 Tarla Dalal was an India's most famous and best cookery author. She was very simple and elegant lady with perfect professionalism and host two cooking shows like "Tarla Dalal show" and "cook it up with Tarla Dalal. Out of both, Cook it up with Tarla Dalal was my 
favorite
 show in childhood  telecast on Sony TV.
Her first cook book,The Pleasures of Vegetarian Cooking, was published in 1974. You were such a big inspiration for me or even other foodie too who loves cooking and food. We will miss you a lot but will always be in my memories when I refer your portal or books.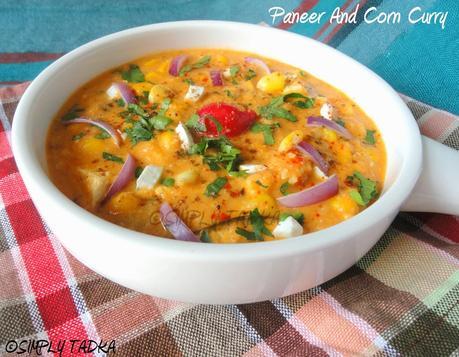 This time our Blogging Marathon family decides to give her tribute through cook and share one recipe out of her treasure. One of mine co-blogger Padma suggest this wonderful idea about giving Tribute to Tarla dalal ji. For this day, I create a logo which appreciated by all.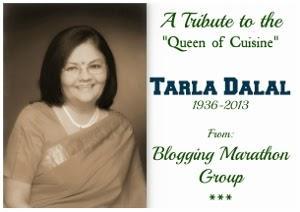 For this special day, I choose Indian main course recipe, "Paneer and Corn Curry". Under this recipe, we have to prepare onion, tomatoes, curd based gravy with paneer and corn. It's really delicious and flavorful recipe which you can serve as main course with Paratha or Naan. Preparation Time: 30 Minutes Cooking Time: 15 Minutes Servings: 4 Category: Veg Curry Recipe Source: Tarla Dalal
Ingredients: 1 Cup Paneer/ Cottage Cheese, cubed 1 Cup Sweet Corns Kernels, boiled 1/2 Cup Onion, puree 4 Medium Tomatoes, blanched and puree 1/2 Cup Curd, whipped 2 Tbsp. Cream 1 Bay leaf 3-4 Cloves 1/2 Tsp. Cumin Seeds 1 Tsp. Chili Powder 1/2 Tsp. Garam Masala Salt to Taste 1/2 Tsp. Sugar 2 Tbsp. Oil For Ground Paste 1 Tbsp. Cashews 1 Tbsp. Poppy seeds 4 Tbsp. Warm Milk 1/2 Tsp. Ginger Paste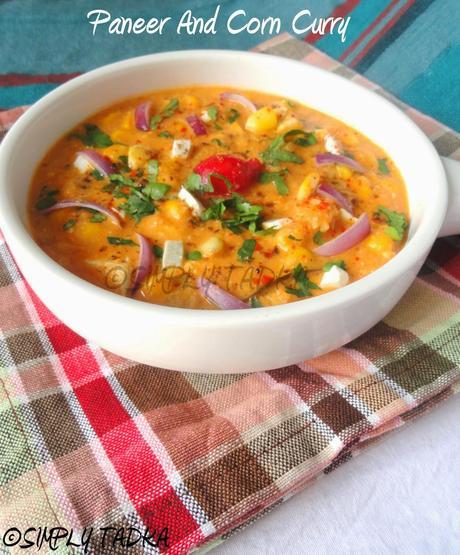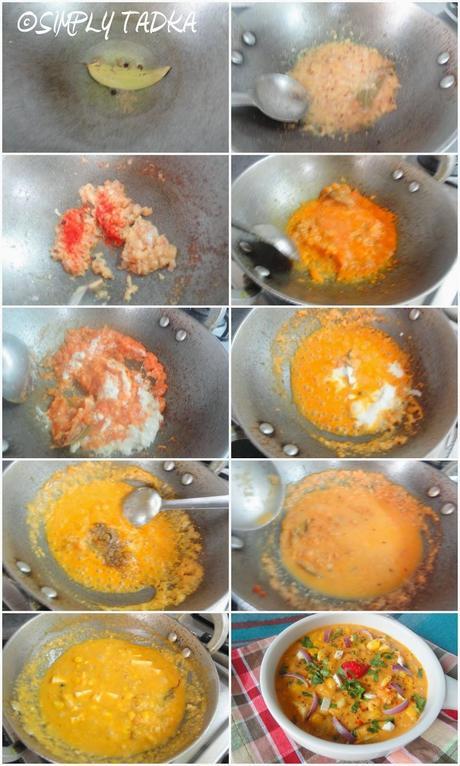 Instructions:
Soak the cashews and poppy seeds in warm milk for 30 minutes.
Grind the soaked cashews and poppy seeds with ginger paste until to ground paste.
Chop the onion and grind them as puree.
Blanch and peel the tomatoes and blend them until to puree form.
Heat the oil in deep wok and add bayleaf, cloves and cumin seeds.
When they starts splutter, add onion puree and sauté until to brown.
Add the chili powder, ground cashew paste and tomato puree and sauté until to masala start leaving oil.
Add curd, cream, sugar and garam masala and stir continuously.
Add water to adjust the consistency of gravy.
Add salt, paneer cubes and boiled corns, mix well and cook for 5 minutes more.
Garnish with coriander and serve hot with paratha or naan.
Notes:
While adding curd, please remove the wok from the flame for 2 minutes, stir it.
Adjust the chili powder, sugar and salt as per tastebuds.
You can grind them curry in blender for smooth consistency before adding paneer and corn. 
Tag
:
How to cook paneer and corn curry, easy paneer recipe, step by step paneer recipe, main course recipe, how to make paneer and corn curry at home, simple vegetarian main course recipes, tribute to tarla dalalji, tarla dalal special paneer recipes, corn recipes, paneer recipes, cottage cheese recipes, Indian recipes.
Enter your email address:
Delivered by
FeedBurner