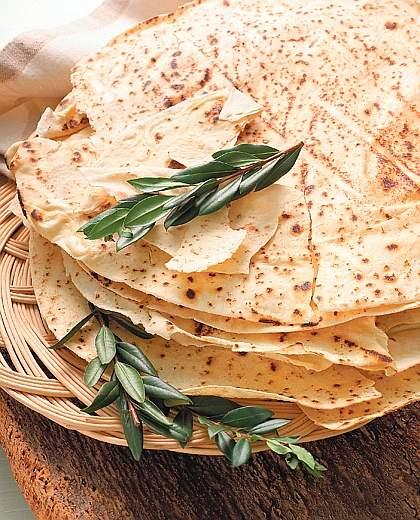 A glass of the excellent  wine, a tasty cheese, and some nice friends: all these elements are surely a the good prerequisites of a relax moment.


If you have chosen or the Roman or the Sardinian pecorino cheese, you can eat the Sardinian bread with them.

Remember that on a real Italian table the  bread can never miss.


The

pane carasau

( the traditional Sardinian bread) has spread throughout the Sardinia, but it is  known everywhere in Italy. The Sardinians know that preparation of this bread  is long and it has many stages, this is the procedure required to have a so good final result.
If you want to cook the pane  carasau you have to wake up before sunrise and prepare the dough.

This phase is called s'inthurta.

The phase called

hiarare

is the working of the dough on the table. The skillful hand will create the right thickness

(the Sardinian bread looks like a thin sheet slightly crunchy).

The dough will rise and it will be worked by taking a circular shape. Before you put  the dough in the oven, it is still left to rest and rise more. Then is yet  worked to obtain the final shape. The sheets of bread are separated quickly still hot. This is the first time we put the pane carasau in the oven, there will be a second time before you can enjoy this bread.


This  bread was born to satisfy the needs of   the shepherds – as many other food: they needed a bread could be conserved. Today it is a delight for us and it is very  advisable  with  the cheese. In any case, even it is so slim, remember that you are eating about 350 calories per 100 grams.

I know it's tasty,  but you  have not to binge to appreciate the taste of food!




post related




http://www.learnitalianow.net/2013/03/pecorino-sardo-directly-from-sardegna.html


http://www.learnitalianow.net/2013/03/pecorino-romano-one-more-pecorino-choise.html


Del buon vino, del formaggio saporito, una piacevole compagnia: sicuramente tutti questi elementi sono dei buoni presupposti per poter pensare ad un momento di piacevole relax. Se avete scelto il pecorino sardo o romano, il pane che lo accompagna potrebbe essere il pane

sardo. Ricordatevi che su una vera tavola italiana il pane non può mai mancare. Il pane carasau, è diffuso in tutta la Sardegna, ma chiunque in Italia riesce a reperirlo e lo conosce.

I veri  sardi sanno bene che la preparazione è lunga e molto curata nelle varie fasi, questo è il procedimento necessario per avere  di un risultato finale così buono.Per preparare il pane carasau bisogna svegliarsi prima del sorgere del sole e preparare l'impasto. Questa fase è chiamata s'inthurta.

La fase dell' hiarare è la lavorazione della pasta sul tavolo, la mano sapiente saprà creare il giusto spessore ( il pane sardo si presenta come una sottile sfoglia leggermente croccante) . Il nostro impasto dovrà lievitare e verrà lavorato prendendo una forma circolare. Prima di entrare in forno viene lasciato ancora riposare e lavorato fino ad ottenere la forma finale

.

Le sfoglie ancora calde vengono separate velocemente. Siamo solo alla prima infornata, ce ne sarà una seconda prima di poter gustare questo pane

.

Come molti cibi anche questo pane nacque per esigenze dei pastori: avevano bisogno di un pane che si conservasse. Oggi è una delizia per il palato che ben si sposa con il pecorino. In ogni caso anche se così sottile ricordatevi che state mangiando circa 350 kilocalorie ogni 100 grammi. Lo so che è buono ma se si mangia poco alla volta possiamo sempre apprezzare il gusto del cibo!