PANDORA Jewelry knows that after the holidays there might have been someone you left off your list, so consumers don't need to scramble for meaningful, high-quality gifts, thanks to PANDORA Jewelry. The international fine jeweler offers limitless possibilities for thoughtful, yet affordable, gifts this holiday season.
With consumers planning to spend less than they did last year, the National Retail Federation (NRF) reports that jewelry remains one of the most requested gifts this season —nearly one-quarter (23.3%) of people are purchasing jewelry for the women on their lists. PANDORA offers these tips for giving the gift of affordable luxury this season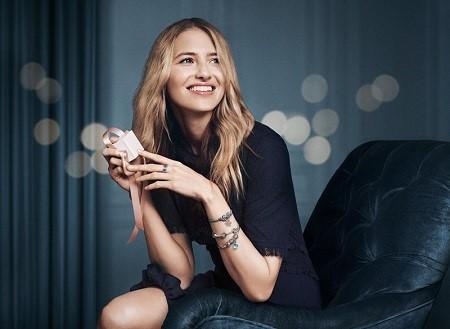 PANDORA Jewelry Offers Charming and Affordable Gift Ideas
Give the gift of admiration: Recognize her inner beauty with the PANDORA ESSENCE COLLECTION, an entirely new creative concept designed to express a woman's values. The new collection includes a slender sterling silver bracelet and 24 charm designs that symbolize values such as freedom, confidence, faith, peace, trust, loyalty, courage, balance, and many more. The PANDORA ESSENCE COLLECTION bracelet starts at $60 and charms start at $30.
PANDORA Jewelry Offers Charming and Affordable Gift Ideas
Put a ring on it: Shopping for the fashionista in your life? Consider a stylish set of stackable rings. PANDORA's winter collection includes sterling silver rings embellished with purple, black or clear cubic zirconia crystals and on-trend designs such as stars and hearts. The rings are stunning worn on their own, or stacked together for a fashion-forward look, and start at $50 each.
Start a new tradition: A personal piece of jewelry that can be added to each year, such as a PANDORA charm bracelet, is as thoughtful as it is beautiful. The PANDORA Moments collection of charms offers hundreds of hand-finished designs to celebrate special memories and commemorate achievements. New additions include the Cheers champagne flutes, the sterling silver Perfect Gift bow and two-tone Carousel. Sterling silver charms start at $20.
PANDORA Jewelry Offers Charming and Affordable Gift Ideas
Make it a ladies' choice: With the NRF reporting that gift cards are once again the most requested gift item this year; it's easy to sacrifice thought for convenience. Avoid the impersonal nature of gift cards by choosing a retailer that makes her feel special. PANDORA Gift Cards make the perfect stocking stuffer for all the women on your list.
"PANDORA jewelry makes holiday shopping as easy as possible, with gift options at every price point to celebrate individual accomplishments and personal style," said Angel Ilagan, Vice President, Marketing, PANDORA, Americas. "For those in need of a little extra help, the PANDORA Perfect Gift Finder offers specific bracelet suggestions, creates a shopping list and directs you to the nearest retailer."