PANDORA Jewellery, one of the world's largest luxury jewelry brands, kicks off the season with nature inspired pieces for women to easily transition their style to embrace this season's hottest bohemian and 70's fashion trends. Inspired by the popular resurgence of fairy tales and fables, where the past meets the future, the season's new collection is filled with innovative designs in .925 sterling silver and 14K gold.
Drawing inspiration from the mythical phoenix, PANDORA's new Majestic Feathers series echoes this autumn's fantasy-fueled trend. From chic stud earrings to a sophisticated necklace pendant, the beauty and serenity of the majestic bird is captivated in .925 sterling silver and cubic zirconia stones.
Pulling inspiration from this season's hottest runway trend, delicate lacework details are reinterpreted in a floral pendant, earring and charm crafted in 14K gold with micro-set cubic zirconia stones in the luxurious Lace Botanique series.  Classic stone cuts combined with innovative craftsmanship techniques translate a vintage appeal with PANDORA Timeless Elegance pieces for autumn. Classic rings, earrings and pendants easily add glam to both a day and night look, making a luxurious and feminine statement.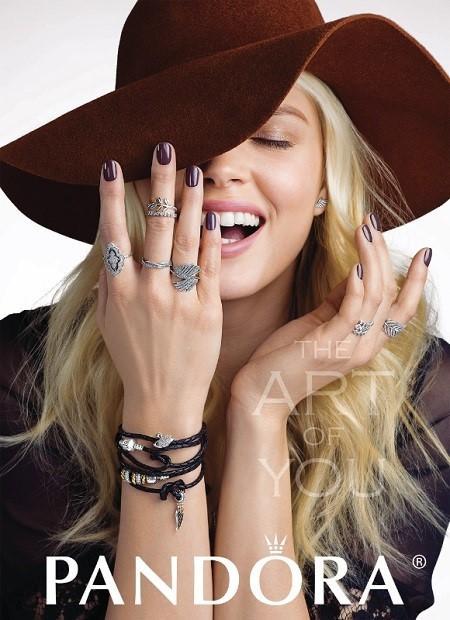 PANDORA Jewellery captures the beauty of nature in its Autumn Collection
PANDORA Jewellery captures the beauty of nature in its Autumn Collection
Autumn also brings the biggest event of the season and PANDORA is once again the official jewelry sponsor of New York Fashion Week.  To celebrate the event and show our fans how to be runway ready at a moment's notice, PANDORA has partnered with lifestyle expert, Janette Ewen, who shares some of her tips for enchanting looks for both day and night:
A lightweight military-style coat is right on trend for fall and is perfect to take you from day "street style" to evening parties, all while looking perfectly effortless.
Always wear elements that reflect your signature style. I like to stack and layer rings in a way that reflects my style and mood for that day.
Don't be afraid to mix metals. PANDORA's Majestic Feathers ring styled with the Luminous Leaves ring stack looks great together.
In a rush? Don't make it complicated. Opt for a basic black pant (with a slightly shorter rounded hem) and a black silk blouse (always tucked in). Pair your outfit with a chic pair of flat lux but "tough" boots, top with a black felt hat, and finish your look with a bold red lip and two wrists full of bracelets.
I love the Majestic Feathers collection charms styled on a bangle. I'd mix this with the Timeless collection pieces on a bangle. You will look chic and stylish, while being comfortable enough to last a day of runway shows.
The autumn collection jewelry pieces start at $35.  Self-creators are encouraged to share their Autumn PANDORA style with hashtag #ArtOfYou and #PANDORAstyle on their social channels and shop the collection online at PANDORA.net. Connect with us and join the conversation via Facebook, Twitter and Instagram.