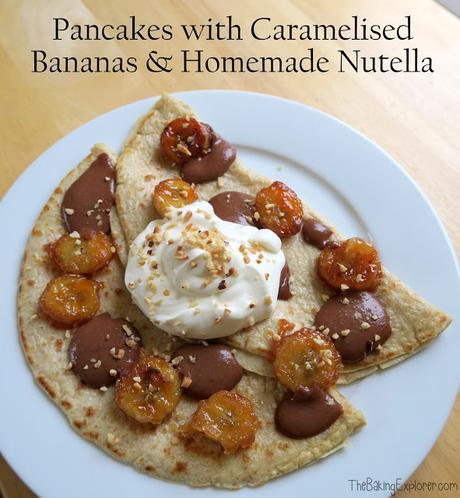 It's nearly pancake day and I've really been enjoying testing out new pancake recipe ideas in preparation, if you haven't already, check out my Oreo Pancakes with Raspberries & Creme Fraiche recipe from last week. Nutella is amazing stuff, but it has been getting a bad rep recently due to the high sugar levels and the fact it contains palm oil. I can't say I'll never eat it again, but it's certainly made me more aware of what's in it. I was so impressed with how good this homemade version tasted! I'll definitely make it again, and it tasted great with these pancakes!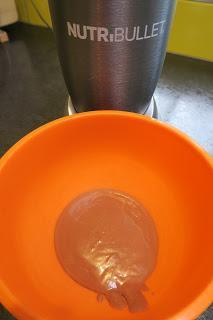 I started by making the nutella style sauce. The amount makes enough  for two servings, so feel free to double or triple it depending on how many people you're cooking pancakes for. In my NutriBullet I blitzed together 50g hazelnuts, 2 tbsp maple syrup, 3 tbsp almond milk and 1 tbsp cocoa powder until smooth.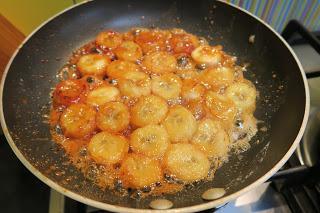 To caramelise the bananas I put 75g caster sugar in a frying pan and when it started to melt I added 2 sliced up bananas. When the caramel went golden, I flipped the slices over to cover both sides in the caramel, then turned off the heat while I made the pancakes.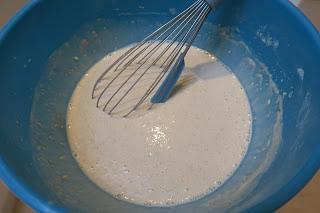 For the pancake batter I whisked together 50g wholemeal plain flour, 235g plain flour, 2 eggs and 570ml almond milk using my Joseph Joseph Whiskle, which is a 2 in 1 whisk with a bowl scraper attached.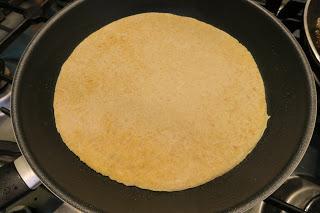 I heated up a frying pan on a medium heat and put a little butter in to grease it, then added the batter using a ladle to measure it out. I cooked on both sides until golden brown.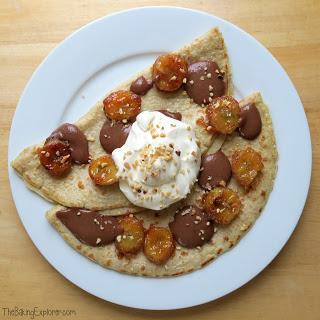 To serve the pancakes I folded them in half, added some of the caramelised bananas and dollops of the Nutella style sauce, then a big blob of creme fraiche (I used a half fat version) in the middle and then sprinkled over some chopped toasted hazelnuts to finish.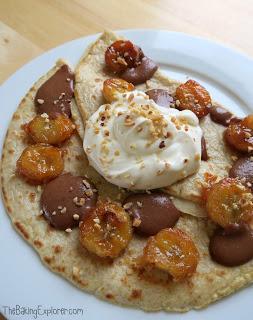 I'd never had caramelised bananas before and they were absolutely delicious! Mixed with the sweet chocolate sauce, crunchy hazelnuts and creamy creme fraiche they were the perfect topping for these pancakes. We had this for breakfast on a weekend and it was quick and easy to make, with such a satisfying result!
NB. I was sent both the NutriBullet and the Joseph Joseph Whiskle for free, all opinions are my own.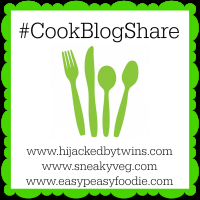 I'm linking this up with Cook Blog Share hosted this week by Hijacked By Twins.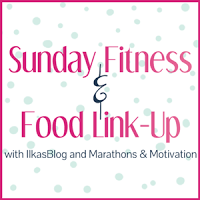 And with the Sunday Fitness & Food Link Up hosted by 
Ilka's Blog
 and 
Marathons & Motivation
.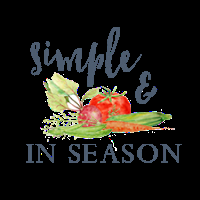 And with
Simple & In Season
hosted by
Feeding Boys
, as it's pancake season! (That counts, right?!)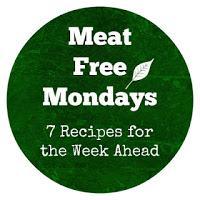 And into Meat Free Mondays hosted by
Tinned Tomatoes
.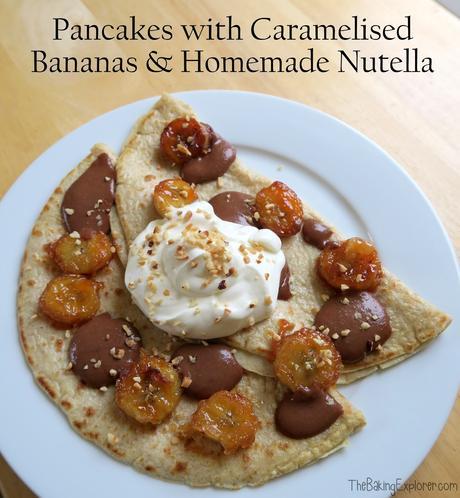 Pancakes with Caramelised Bananas & Homemade Nutella
February-26-2017
Ingredients
50g

Whole hazelnuts

2 tbsp

Maple syrup

3 tbsp + 570ml

Almond milk

1 tbsp

Cocoa powder

75g

Caster sugar

2

Bananas, sliced

235g

Plain flour

50g

Wholemeal plain flour

2

Eggs

A handful of

Chopped toasted hazelnuts

A tub of

Creme Fraiche (I used a half fat option)

Vegetable oil, for greasing the pan
Instructions
For the Nutella style sauce, in a NutriBullet blitz together the whole hazelnuts, maple syrup, 3 tbsp of almond milk and cocoa powder until smooth
To caramelise the bananas put the caster sugar in a frying pan and put on a medium heat, when it starts to melt add the sliced up bananas. When the caramel goes golden, flip the slices over to cover both sides in the caramel, then turn off the heat while you make the pancakes
For the pancake batter whisk together the wholemeal plain flour, plain flour, eggs and 570ml of almond milk
Heat up a frying pan on a medium heat and put a little butter or oil in to grease it, then add the pancake batter using a ladle to measure it out. Cook each pancake on both sides until golden brown
Let the pancakes cook for around 5 minutes on each side until golden
Serve the pancakes folded them in half, and top with the caramelised bananas, dollops of the Nutella style sauce, creme fraiche and a sprinkling of the chopped toasted hazelnuts