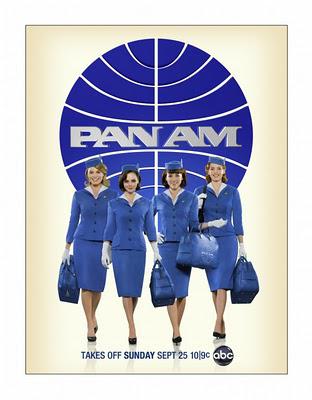 Grab a window seat and hold on tight! Pan Am takes flight tonight on ABC. The adventure, glamour and romance of the Jet Age is soaring right on over to your T.V.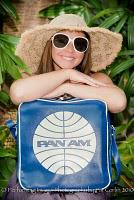 Pan Am Defiance Bag
Pan Am follows a group of young flight attendants who sign on to the "new" luxury airline in the hopes of seeing and experiencing the world. The series takes place in the early Sixties when traveling aboard PanAm's luxury Jet Clippers glorified the height of the Golden Age of Air Travel. The pilots are handsome and the stewardesses desirable; trained to handle in-air emergencies, unwanted advances; and how to make a cocktail at 30,000 feet; all without wrinkling their uniforms or messing up their hair. Unlike 'Mad Men,' 'Pan Am' promises to focus more on the women. Christina Ricci plays the rebellious bohemian Maggie; Karine Vanasse is the flirtatious Collette, Kellie Garner is the always-adventurous Kate and Margot Robbie is Kate's beauty queen sister, who has f literally left her groom at the alter.. And while each of the stars has perfected that classic "Pan Am Walk" with the hips swaying and one hand in the air, underneath the pretty facade it's all about female empowerment.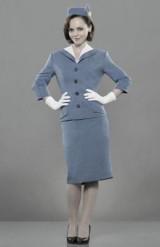 Think about it; in the sixties, little girls couldn't and didn't really aspire to be pilots, if they were lucky... and pretty enough... they could become stewardesses, travel the world, and hope to meet rich men and land a rich husband. What more could a woman ask for in a career? The social climate of the 1950's and '60's was strongly sexualized and promoted the glamorous image. They were selected not only for their knowledge but also for their characteristics. A 1936 New York Times article described the requirements: "The girls who qualify for hostesses must be petite; weight 100 to 118 pounds; height 5 feet to 5 feet 4 inches; age 20 to 26 years. Add to that the rigid physical examination each must undergo four times every year, and you are assured of the bloom that goes with perfect health." Stewardesses, as a rule were young, beautiful, and voluptuous which brings us to the "girdle.". The association between the glamorous image of the stewardess and the girdle her employers required her to wear was strong. Nearly all published descriptions of a stewardess's job managed to find a way to include mention of the mandatory girdle policy. Certainly by the mid-60's, popular books such as Coffee, Tea, Or Me, and The Fly Girls made repeated reference to the heroine's girdles, usually in the sense of a good-natured complaint, but sometimes mentioning the protective value of heavyweight undies when dealing with drunken male passengers with "Russian hands and Roman fingers."Christina Ricci plays one of the stewardesses in the new series and says "... the uniforms are sexy, but that sexiness is not easily found. We wear girdles, it's literally a half-hour pee break. Someone has to help you, because afterward it's all unhooked. The girdles make you walk a certain way," she continued. "It keeps your legs together. I don't know how women in the 1960s did it. "I don't know how women got dressed by themselves." Girdle requirements were not uncommon in the '60's (and not just at the airlines.) Most women wore girdles, and girdles were looked upon as a sign of neatness and good grooming, Suffice it it to say, stewardises were required to be so well groomed as to have no lumps or bumps and nothing on display, either. The girdle simply put was part of the uniform. This meant that most young women around the pool would have red dent marks on their thighs from the girdles. It's only fair to note, that, when "stewardesses" became militant, there was quite a brou-ha-ha in which PanAm stewardises claimed --and won --a case in which they claimed to suffer from a syndrome called "jet tummy" or such. They won by getting medical agreement that, indeed, there is some air trapped within internal organs, and that at the reduced cabin air pressure of jet planes, it could become painfully trapped by a girdle.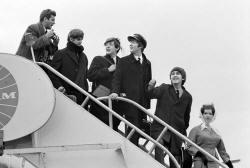 Sony Pictures TV production president Zack Van Amburg said the idea for "Pan Am" came from a meeting he and  Jamie Erlicht, had with Nancy Ganis (a former flight attendant) and her husband/production partner Sid Ganis. When Nancy Ganis relayed tales of   what it meant to be a flight attendant in the go-go days of flight travel, Van Amburg and Erlicht latched on to the idea. "These were the world's ambassadors," Van Amburg said. "They were really interesting women at a time when a lot of things were happening, particularly for women in this country... and in terms for what Pan Am did for exporting American culture and importing the world, think about all the visuals of the Beatles landing at JFK on Pan Am." One interesting note about the show is that you won't see the actors smoking. Producers admitted that ABC-Disney nixed the use of tobacco by key stars like Christina Ricci and Margot Robbie, despite the fact that smoking was de rigueur on flights – and throughout the terminal — in those days.
The show has also relaunched, Pan Am Brands luggage and bags. Pan Am has been recognized the world over as the most stylish airline in the world. This was no accident, as the Pan Am powers that be decided to incorporate partnerships between top designers and tastemakers to create what was to become some of the most stylish and iconic images in aviation history. Stewardess uniforms by top designers like Edith Head made heads turn in the terminals and in the aisles. It was the iconic Pan Am cabin bags that were given to first class passengers that became the lasting reminder of escape from the mundane. Carrying a Pan Am bag signified not only a departure from the ordinary, but that you had truly arrived. The current Pan Am brand operates every day with style and innovation in mind. The iconic logos and classic colors of the Pan Am Originals line tell a story rich in history and style with a passing glance. With the addition of the tech-based 707 Collection for spring of 2012, it's not about where you are, but where you are going.
Incidently, a full line of luggage and bags are available at Get Go Retro!  And if yo miss a show ... catch it on line at ABC.  
Sources:
Pan Am Brands Blog
;
Confessions of Christina Ricci
;
Starbacks
;
Everything PanAm
;
Variety