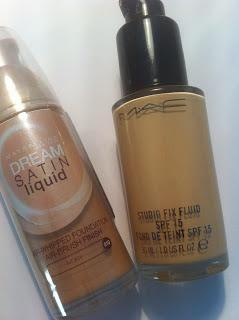 Hello lovely people!
Today I have another post for you on foundations that I think work well with my pale skin tone. I have chosen a high-end product I think works for me and a drug store alternative. As you all know I love the MAC Studio Fix Fluid and I wear it everyday but recently due to a student budget I've been looking for good budget foundations. I used to wear Dream Matte Mousse back when I was younger but I haven't ventured back into it in years. I was in the shops the other day when I seen that Dream Satin Liquid was £5 on promotion. I thought this might work for me as previously I loved the mousse formula. I picked up the shade Ivory as it was the lightest they stocked in the brand and the rest looked to dark for my skin tone. I can say I was not disappointed by this product, the color and finish is similar. I prefer the liquid now as I can set it with powder whereas the mousse clings to my problem areas. Studio Fix Fluid has more yellow undertones rather than the pink undertones of Dream Satin Liquid. Both foundations are from the light sections of both brands. The difference in price would sway me towards the Maybelline product as the MAC foundation retails at £21.50. If you are after a medium/heavy coverage foundation that is build-able I recommend both these products, depending on your budget. The MAC foundation does not come with a pump, which is a disadvantage in my opinion- a separate pump can be purchased at £4 in MAC stores. Overall I think I prefer the Studio Fix Fluid but Dream Satin Liquid is a perfect drugstore foundation for those pale skinned beauties!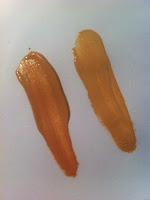 (Left- Dream Satin Liquid Ivory . Right- MAC Studio Fix Fluid NC15)
What foundation do you recommend?
See you all in my next post!

x