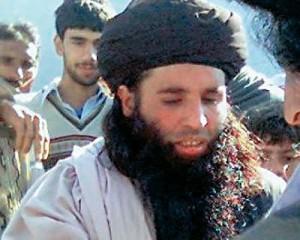 Pakistan has requested Afghanistan to hand over Maulana Fazlullah to Pakistan, highly placed sources revealed to Pak News. According to sources, demand was made by Foreign Minister Hina Rabbani Khar during her meeting with Afghanistan-Pakistan special envoy Marc Grossman who is visiting Pakistan to meet with political and military leadership of Pakistan.
Fazlullah is swat based cleric who fled to Afghanistan during army operation in Swat. He became famous due to her firebrand sermons on his illegal FM radio station. Due to Radio sermons he is also known as "Mullah Radio".
Maulana Fazlullah became so strong in the area that he established his writ on almost whole of district Swat and facilitated Taliban infiltration in the area. His network grew so strong that Pakistan Army had to launch a full fledged army operation in the area.
Pakistan has many times alleged that Maulana Fazlullah is being facilitated in Afghanistan and he has a safe heaven there. His comrades have launched some of the worst attacks on army that also included abduction and killing of 17 soldiers from inside Pakistani territory. He was recently named in attack on Malala Yousafzai.
Young peace activist Malala Yousfzai who stood against Taliban for her right of education also hails from Swat Valley. Maulana Fazlullah took her as a threat and tried to eliminate her. This is clearly a move to win back his area by terrorizing people of Swat Valley. Malala survived the attack and is currently under treatment in Birmingham hospital.
Attack on Malala Yousafzai was condemned in Pakistan as well as internationally. However, as result of attack international community is forcing Pakistan to launch offensive against Taliban in Waziristan which will definitely be challenging. At the same time Pakistan also need to press the International community to take corrective measures in Afghanistan and demanding Fazlullah is a right step in right direction.