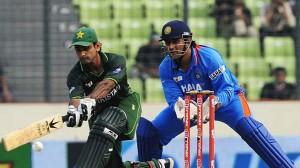 Pakistan tour of India will begin with a T20 match in Bangalore
The Board of Control for Cricket in India (BCCI) on Thursday announced the schedule of Pakistan tour of India 2012-13.
The men in green will kick-off the tour with a Twenty20 international M Chinnaswamy of Bangalore on December 25. The second T20 game is scheduled on December 27 at Ahmedabad.
The three-match one-day series will get underway in Chennai on December 30 while the second and third games will be played at Kolkata (January 3) and Delhi (January 6) respectively.
On Tuesday the Indian home ministry had given the clearance for the tour, which is sandwiched between two legs of England's tour of India.
England will go back to home on December 22 for the Christmas after the four-Test series and will return India for the one-day and Twenty20 international series on January 3.
PCB Chairman Zaka Ashraf hailed the announcement of schedule of Pakistan tour of India saying the people of both countries will be eager for the much-anticipated series.
"This is a great news for the people of both Pakistan and India," Ashraf said. "You can't just clap with one hand. Both countries need each other and that strengthens the relationship. The series will be a big breakthrough and a revival of our cricketing relationship with India."
The arch-rivals have not played a bilateral series since Pakistan's tour of India in 2007 after cricket ties were suspended following the 2008 terror attacks on Mumbai. Since then the two teams have met only in the international events and multi-team series.
Pakistan tour of India 2012-13 Schedule
December 25: 1st T20 International at Bangalore
December 27: 2nd T20 International at Ahmedabad
December 30: 1st ODI at Chennai
January 3: 2nd ODI at Kolkata
January 6: 3rd ODI at Delhi