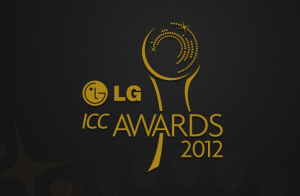 Pakistan Cricket Board (PCB) has decided to boycott ICC Awards ceremony in slightly different manner. No senior PCB official will attend the awards ceremony in Colombo. Outrage in Pakistan over exclusion of Saeed Ajmal has led to this decision. Name of legendary off-spinner was struck down in final list of nomination. Initially Ajmal was nominated for test cricketer of the year, ODI player of the year and International Cricketer of the year.
"We have our strong reservations over Ajmal's omission from the awards list but have decided not to boycott the ceremony but we will only be sending some squad members to the event," Pakistan Cricket Board (PCB) spokesman said on Friday.
Saeed Ajmal is highest wicket taker in test matches for the criteria period. He took 72 wickets in Test wickets between August 4, 2011 and August 6, 2012. Even top performance of 24 wickets against World No.1 England at an average of 14.70 could not win hearts of Jury. ICC had no hesitation to include Saeed Ajmal in both test & ODI squad of the year.
Sparked by the exclusion of Saeed Ajmal PCB lodged a written protest to ICC and demanded reconsideration. ICC refused to reconsider saying that saying that Jury voting results are final and binding on everyone. Jury included former Pakistan captain Aamer Sohail and sports journalist Majid Bhatti.
Saeed Ajmal exclusion stunned former greats
Case of Saeed Ajmal exclusion also resonated in Pakistan's Parliament. Parliamentarians demanded to boycott the Awards ceremony if name of off-spinner is not included. Former players like Imran Khan, Ramiz Raja, Rashid Latif and Basit Ali expressed their shock and grief over ICC decision. They strongly recommended that there is a strong need to revisit the section criteria.
Final Nominees for ICC Awards
Final nomination for test cricketer of the year includes Kumar Sangakara from Sri Lanka, Fast bowler Vernon Philander from South Africa, Australian skipper Michael Clarke and mighty South African opener Hashim Amla.