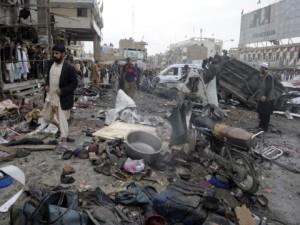 Pakistan, one of most naturally endowed countries remained to be known for all the wrong reasons. As Pakistanis, our identity mark in League of Nations is terrorism, corruption, lawlessness, cheating, illiteracy, poverty and militancy. Year 2013 has started less than a fortnight ago but in Pakistan its business as usual. New Year has started on a bloody note.
To me, it appears that Pakistan has turned into a "Big Human Slaughterhouse" where different butchers are waiting for their turn to slaughter their part of Social animals (Humans?). In a slaughter house culling animals is usual business and nobody feels sorry about the poor animals being slaughtered. Small nice looking animals lose their lives for no fault of theirs. Their only fault lies in being animals.
Same is the case with Social animals living within territorial limits of Pakistan. This herd of 180 million social animals is at the mercy of small number of butchers. I am indifferent in whether to feel sorry for the butchers who are really facing a mountainous task (getting rid of 180 million) or for the creature called Pakistanis who are born to be slaughtered.
Animal slaughterhouses in countries like Pakistan are not well equipped and animals are usually slaughtered manually. This method is usually slow, inefficient and labor intensive. On the other hand modern and developed slaughter houses cull animals mechanically in more efficient manner. In a modern slaughter house environment good number of animals can be slaughtered simultaneously.
It seems that social animals called Pakistanis are being killed in a modern slaughter house environment. Every one assigned this duty is making sure that he receives maximum efficiency ratio i.e. Time/killings. Uninterrupted availability of modern has made the task lot easier. Beauty of this slaughter house is that use of both lethal and non-lethal tools is permissible. Some of the modern lethal gadgets include suicide bombers, planted bomb blasts, drone attacks and target killers. All these tools ensure maximum efficiency ratio.
 In Karachi, on average ten people are being killed daily on target basis. These include like of Shahzeb Khan, Hakeem Mehmood Ahmad Barkati (Killed at age of 95), and Engineer Ali Haider and ordinary people. Six bomb blasts rock Quetta within span of 24 hours to ensure that at least 150 more social animals are eliminated and we kept searching for political drone.
With all this happening all around, for 180 million social animals it's a routine business. They are just witnessing and waiting for their turn. Let's wait for our turn as we are not ready for change and are fully ready for being the next one.