Packyourbags.com recently launched its Facebook page, subsequently the business is keen to let as many people know about its Facebook page and its charity donations to help grow its followers. Packyourbags Holidays is helping raise money for Plan International's Girl's Fund, a project supporting girl's rights in the world's poorest countries.
Whilst Packyourbags.com is about selling all things travel, such as holidays to Spain, holidays to Turkey and beyond. The company is also keen to help those less fortunate, and raising money for charity is an important part of the business.
It's not the first time Packyourbags.com has helped raise money for Plan International, in September 2010, Packyourbags.com Managing Director Mark Kempster along with three other staff took part in a group climb of Mount Kilimanjaro. The target was to raise £35k for Plan's 'Because I am a Girl' campaign and specifically an education project in Mwanza, north of Tanzania. The team successfully raised the £35k they were after and the funds went towards constructing a girls' school residence, resulting in an entire community of girls being able to access the education they deserve and help break their cycle of poverty.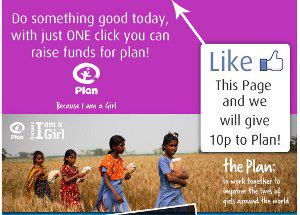 Packyourbags.com latest campaign is to give 10p for every 'Like' of their facebook page towards Plan's Girl's Fund. The Girl's Fund is also part of Plan's 'Because I am a Girl' campaign, which funds projects that directly support girls across the world to help lift themselves out of poverty through providing access to education.
Packyourbags.com Managing Director Mark Kempster commented, "We're delighted to be working with Plan again, and we hope this type of initiative generates Facebook Likes from people who are keen to keep abreast of what we do and have to offer, whilst at the same time raise money for a very special cause."
To help raise Packyourbags.com's Facebook profile and its fund raising for The Girl's Fund, Plan is also doing its bit by communicating with all its supporters about Packyourbags.com, as their Facebook page 'Because I am a Girl' has over 300,000+ followers.