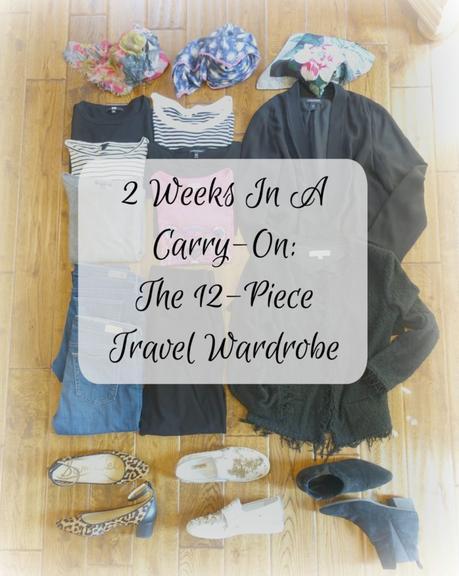 Our trip to Italy (and Paris) will cover a little over two weeks. We'll be in Rome, Lake Como and Venice, then finishing up in Paris for two nights. As of today, the forecasts indicate mild temperatures and pleasant conditions in Rome and Venice, and chilly, possibly wet conditions in Lake Como. The last time we were in Italy, much of Europe was experiencing an unusually hot spring, so I'm happy for the cooler temps, as I find them much easier to pack for.
When push came to shove, I opted for a "no muss, no fuss" wardrobe. I've selected pieces that will layer well to accommodate changing conditions. As always, I don't include outerwear, accessories or underpinnings as part of my 12 items. And at the last minute I'll give myself the option to add a "wild card" depending on weather and my mood.
So let's dive right in to the details…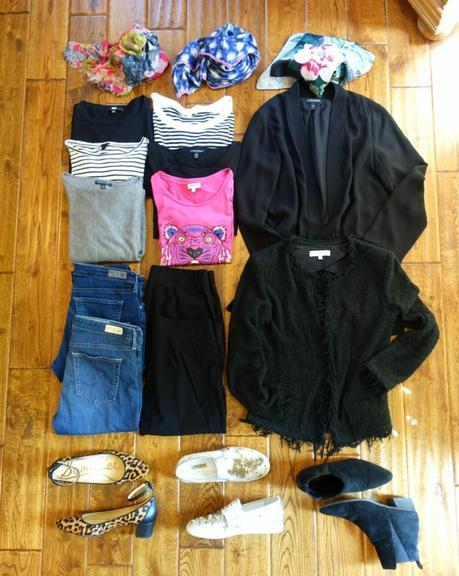 Shoes
I really wanted to include some non-black footwear, as it just feels more seasonally appropriate. But because of the rain currently in the forecast, I'm including my black weatherproof ankle boots.
Low-heeled pumps, left. (Similar) We have a few dinners on the schedule that are a step up from casual, so I decided to include these leopard ankle strap pumps. I know they're comfortable for long periods on my feet (though I'll probably limit their wear to evenings) and the leopard print gives simple outfits a nice lift.
Slip-on sneakers, middle. I wanted something a little fun and funky. And Not Black. I've road-tested these the last couple of weeks and they've passed with flying colors for comfort and durability.
Weatherproof ankle boots. For wet and/or chilly weather. I also like to wear ankle boots on travel days to protect my feet. You never know when that Dude In A Hurry is going to run over your toes with his heavy suitcase.
Pants
After some dithering, I went with what I know works. Two pairs of slim leg jeans (one lighter wash, one medium), and two pairs of Eileen Fisher stretch crepe pants (one slightly cropped, the other hits just below the ankle).
Medium wash jeans. 
Lighter wash jeans (similar). I decided to include a lighter pair in case the weather warms up. (Though both of these jeans these look quite cropped on the websites, they hit me just above the ankle.)
Slim black knit pants, ankle length. 
Slim black knit pants, notched cuff. Both of these black pants can dress up easily if needed. They also can be hand washed in the sink if necessary, and will hang to dry overnight. They're comfortable and breathable even if the weather warms up. Best travel pants I've found yet!
Tops
I decided to stick with tees and sweaters this time.
Black merino wool pullover (similar). Mine's Uniqlo from last year. It's a little different from the style currently available, has a high-low hem and covers my bum.
Cashmere blend striped tee (similar).  
Lightweight long gray sweater (similar fabric and shape). Mine's from last year, but it's a nice sweater that's not boxy or bulky, so can layer underneath a jacket.
Striped 3/4 sleeve tee (similar). This is a very lightweight tee, good in heat.
Long-sleeved black silk tunic (similar).
Pink graphic tee. In case the weather warms up, or I hit the wall with neutrals.
Jackets
I'm bringing two jackets this time rather than a cardigan. One jacket can dress up for evening, the other is lightweight and can be dressed up or down.
Silk kimono jacket (similar).
Short fringe edge tweed jacket.
Scarves
I'm using scarves to add color and pattern. As I described in an earlier post, Color And Neutrals In A Travel Wardrobe, I've limited my tops to stripes and graphic prints, and scarves to florals. The pattern mix works so that any of the scarves can be worn with any of the tops.
Silk-cashmere blend long scarf (similar).
Cotton-silk blend long scarf (similar)
Silk square scarf (gifted).
(Not shown) Cashmere poncho (similar style).
Outerwear And Bags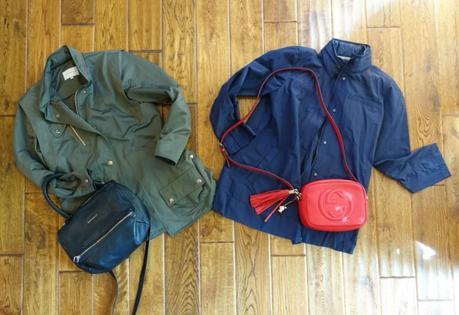 (Don't worry, those are just sun spots on the Gucci; it hasn't faded.)
I opted for two water-resistant jackets, one that's a bit heavier and warmer, and one that's a very lightweight shell. I still haven't found a day bag I like better for travel than my Pandora, but will also throw in a smaller crossbody bag for variety and a pop of color.
Utility jacket (similar look). This jacket is several years old from Sandro. I still love it as much as the day I bought it in London.
Rain jacket (similar).
Black satchel/crossbody bag.
Red crossbody bag.
Most of these pieces are from last year or are even older, but I tried to find items that are similar in style or fabric composition. I try to be sure that most of what I'm packing is washable.
I'm often asked about what sleepwear I pack for travel. In warmest weather I'll pack a silk chemise, otherwise I love my Cool Nights pajamas.
Whew! I think I'm ready….
For more of my spring and summer travel wardrobe suggestions, check out my SHOP page.
Let's Pack…

Turn on your JavaScript to view content