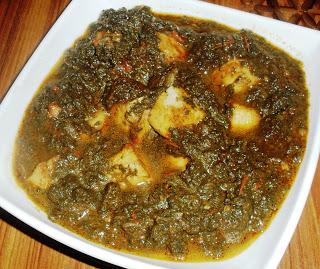 Uptil now, I used to make Paalak (spinach) in the same traditional way as Paalak Gosht (with meat) and was now searching for something different. Had frequently heard the name of Paalak Paneer but did not have the recipe as easy as this one. When I tried it out, it turned out to be super yummylicious. It might not look very attractive from the pic I have uploaded (my photography skills, you know :p), but believe it or not, it was really worth trying…  
Ingredients:
Spinach leaves   500gPaneer (Cottage cheese) 150g (cut into ½ inch squares)Oil for deep frying4tbsp ghee or oil1 onion finely chopped1 tbsp ginger garlic paste1 tsp ground coriander1 tsp ground roasted cumin1 tsp red chilli powder½ tsp garam masala¼ tsp ground turmericSalt to taste225 g tomatoes finely chopped
Recipe:
Boil the spinach in water for a few minutes until the spinach is tender. Cool, then blend to a smooth paste in blender. Fry the paneer in a deep frying pan until golden brown. Drain.
Heat oil in a wok, fry the onion with ginger garlic paste until golden brown. Stir in the ground spices, salt and tomatoes and cook until ghee appears on the surface. Add spinach and paneer and simmer for about 10 minutes until the paneer is soft and spongy. Add a little water during cooking if necessary. Serve hot with naan or chapatti.