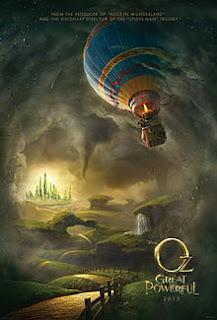 "What's your favorite film?"
It's a question that I absolutely hate being asked, because there are so many amazing films out there that can't even begin to be compared to each other, purely because they're so different. However, if I was really pushed I would always choose 1939 classic The Wizard of Oz starring the late Judy Garland. It's my earliest childhood favourite, and I remember spending a lot of my childhood watching it.
The thing that makes that film so incredible isn't just the amazing piece of storytelling, which is always huge plus for me, being a writer. It isn't the delightful soundtrack that you can't watch without singing along to. And it's not even the fact that I was in The Wizard of Oz on Ice when I was a kid. No, it's the fact that the film was so ahead of its time, and that despite its age it still looks as visually stunning as it did all those years ago.
When I first saw a sneak poster for the new film Oz: The Great and Powerful, you'd think that I would have been disgusted, because who could possibly do any better than the original. But, you know what? I have to confess that I was intrigued to see what this would bring, especially with the remakes of Alice in Wonderland and Charlie and the Chocolate Factory which have both stood firmly on their own. Although, I do have to say that the lack of a certain Mr. Depp is incredibly welcoming!!
But, then came Comic Con and the teaser trailer:
So, what did I think?
I'll be honest and confess that I'm not that impressed at all. Visually, it isn't that stunning from what I can tell, but despite the omnipresent 3D appears to have delved more into the world of cute rather than spectacular - well, this is Disney after all, so I guess I shouldn't have expected much else. The cast list reads like a Who's Who of Top Acting Hierarchy as the film appears to have attempted to beat some kind of record to see how many big names they can fit into one title. Needless to say, it becomes a bit boring as you spot yet another big name, and then another with many of them wearing the same "what the hell am I doing here?" expression as worn by Nicole Kidman in the disaster that was The Golden Compass.  Some films can be spot on when it comes to casting last lists of big names, look at
Harry Potter
for example, and other films (as mentioned) really can't. The problem with these latter films, is that they always look to be trying too hard. It's as if they've cast lots of names purely to draw in as big of an "easy" audience as they can. Personally, I find it irritating and it puts me off, because the actors just don't look comfortable in their roles and it comes across a bit pantomime-ish.  For me, Harry Potter was different because it almost felt like these actors were born to play their roles: Julie Walters was a superb Mrs Weasley, whilst can you even begin to imagine anyone other than Robbie Coltrane playing Hagrid?  Nevertheless, the overall idea behind Oz is intriguing and I am interested in the different viewpoint, but I don't really think that it will be enough to get my bum on that cinema seat for this one.
What do you think? Too many big names? Or perhaps you like it?What do you think of the "different" take on the story of Oz?