I can't think of anything more comforting for breakfast than a bowl of hot rice with with slurry half cooked eggs and chicken pieces.
Known as Oyako don, this Japanese dish literally translates to "parent and child" don. Though i knew the translation behind the Japanese name. It took google and wikipedia to point it out to me why it might be named such.
The reason is pretty obvious actually. Chicken and egg = parent and child. Chicken being the parent, egg being the child.Geez, that was pretty obvious!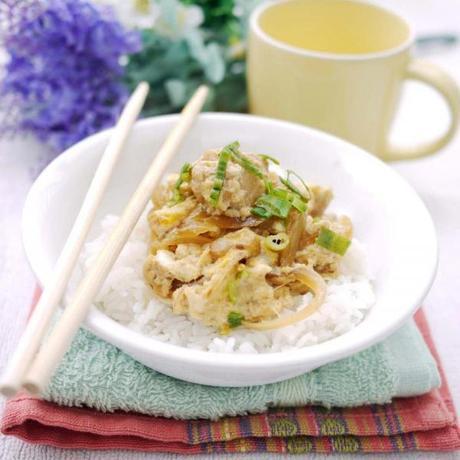 I really loved slurping the softly cooked eggs, and the chicken gave some bulk  to the Japanese rice dish.
But of course, the highlight of this dish is the sweet yet savoury sauce in this dish. This is the sauce in which the chicken, eggs, and some onions are stewed in.
It is also the sauce that the rice soaks up as the stew got ladled over it. And if you can't really picture it, think of gravy and mashed potatoes.
Oyako Don
Taken from Momofokufor2
Chicken Katsu-Oyakodon Recipe
Yield: 2 servings
2 cups of cooked white rice
4 chicken drumsticks, de-boned and cut into bite-sized chunks (see below)
2 tablespoons flour*
salt and pepper*
1 egg, lightly beaten*
1 cup panko*
oil for pan-frying*
1/2 cup dashi
2 tablespoons soy sauce
1 1/2 tablespoon mirin
1/2 onion, thinly sliced
1 teaspoon oil
3 eggs, lightly beaten
sliced green onions for garnish
1. Set up a breading station and break the chunks of chicken by dipping in flour, shaking off excess, dipping in egg, and then in panko. Continue until all chicken is breaded.
2. Heat up oil to 375˚F in a frying pan. Shallow fry chicken in batches until golden brown and cooked. To check, cut a piece of chicken in half. Drain on paper towels and set aside while you cook your onions and eggs.
3. Heat a teaspoon of oil in a sauce pan on medium-high heat. Add the onions and pan-fry until cooked and soft, but not brown. Add the dashi, soy sauce, and mirin and turn the heat to high. When the mirin mixture comes to a boil, add the eggs and turn the heat off and cover the pan so the eggs cook in the residual heat for about 3-4 minutes.
4. Fill rice bowls and place chicken katsu on top. Scoop soft omelet and dashi broth onto the chicken and rice. Garnish with green onions. Enjoy!
*Note: I didnt katsu my chicken. Instead i just slid after pan frying the onions and simmer it in the sauces.