Cable has seen its fair share of baby-centered docu-series. TLC's "A Baby Story" followed couples as they prepared to welcome a new family addition. Similarly, Discovery Fit and Health airs "Birth Day," a show which focuses on labor and delivery. Networks such as Logo and Oxygen have made a different contribution to baby mania, by developing shows about the heart-wrenching adoption process.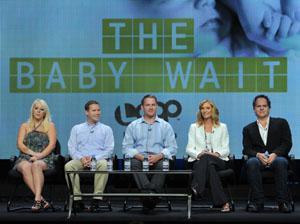 "I'm Having Their Baby" is a new six-part series on Oxygen. The show, which tells the stories of mothers struggling with the decision of adoption, premiered on July 23. Each of the episodes shown will feature open-adoptions, in which the biological and adoptive parents know the identity of one another. Michael Rourke, the show's executive producer, shared show details during a recent conference call, "…The story of adoption and the changing face of adoption… is a story that really deserved to be told."
While adoption is the focus, the storylines will vary from episode to episode. Sometimes the show will pick up the story before the birth mother has chosen adoptive parents. Other times, the show will begin after she's chosen the parents and is working out all of the kinks. "Not every mother chooses adoption in the end," says the executive producer. "I'm Having Their Baby" currently airs Mondays at 11PM/10c on Oxygen.
Similarly, Logo's "The Baby Wait" (premieres Oct 30) shows the emotional roller coaster of adoption. Logo's senior vice president of Original Programming, Brent Zacky, assures that Logo's series isn't going to have viewers seeing double. "The unique premise of 'The Baby Wait' is that it documents both the lives of the birth mother and adoptive parents while they ride out the waiting period before the adoption is finalized," he said. "This waiting period varies from state to state and can range from a few days to several weeks or even a month. We also follow only one birth per episode, allowing us to go deeper on each story."
Click Here to Read the Complete Article