A few weeks back, all three of us in the house were caught up by the weather changes and were totally sick – coughing, sneezing and barely having a voice to speak. As Little A started his nursery a month back, a lot of people I met warned me to be cautious as he'd be catching cold and flu in a blink of an eye. But what they didn't tell me was that he'd be building up his immunity too. With two visits to the doctor, couple of tests and finally an antibiotic course at the end, Little A  got back to his usual dynamic routine! While he was not well, what he constantly did was to cling to my arms and refuse me to leave his side. Not that I am complaining. In the midst of all the chaos that ran for two weeks, I thoroughly cherished non stop and firm hugs from Little A every few minutes. But when it got around to being sick myself, I started worrying about cooking meals and feeding the family. Soups were always on the menu but like a typical Indian family nothing comfort us apart from our favorite sabzi-roti (vegetables and wheat chapatis) atleast once a day. Or a daal-chaawal (lentils and rice) on a plate. Nothing fancy you see. Yet again, I struggled to pull out decent time only when Little A slept (which was no more than an hour during the day) to prepare a fitting sit-down meal.
That's when an idea generated to plunk everything that I'd customarily put in my non-stick cooking pot over a stove top in a baking dish and let it go in an oven, so that my hands are free from stirring the spoon and are instead available for other chores. Also, I'd be in so much hurry to finish the tasks that I were doing in the kitchen that I really wished there was some global force to help me accomplish all the action in defined time frame; simultaneously battling with incessant coughing and awful flu. Oh, how crazy it can be when all the members of the family are ailing at the same time! And you know what, this recipe need not be made only for sick days but also for days when you are in a hurry or have just got back from work looking for fuss-free meals. Since this recipe uses olive oil to toss the vegetables unlike ghee or vegetable oil like in most Indian vegetables, who knew cooking veggies in Indian style could also get a healthier twist!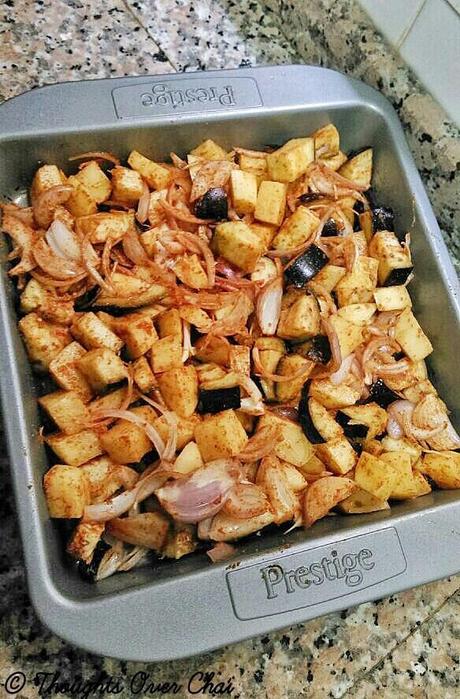 Before going in the oven
It's a simple recipe for roasted potatoes with eggplants though you can start with other veggies like beans, cauliflowers, asparagus, carrots, parsnips, corns etc. You may also use vegetable oil for the taste you prefer but I felt olive oil provided minimum greasing leaving no oil residues and is slowly becoming a dietary staple in our household.
Oven Roasted Potatoes and Eggplants.
Ingredients:
Potatoes – 3 medium sized, peeled, washed and cubed.
Eggplant – 2, stem removed and cubed
Onions – 3, peeled and thinly sliced
Red Chilli Powder – 2 tsp
Turmeric Powder – 1/2 tsp
Coriander Powder – 2 tsp
Roasted Cumin Powder – 2 tsp
Salt to taste
Olive oil – 2 tsp
Method:
Preheat your oven between 180 – 200 Degress Celcius while you go around with peeling and cutting the vegetables. In a square non-stick baking dish, put together all the vegetables alongwith the spices and salt. Drizzle oil and toss everything together. Spread out the contents of the dish in an even layer and cover with the foil. Prick the foil with knife at uniform intervals and let the dish go in a pre heated oven for 20 minutes before you remove the foil. Let it roast for another 5 minutes without the foil and you are done. Cooking time will actually depend on your oven; mine took 25 mins till the veggies were cooked to my like – soft onions and potatoes and mushy eggplant.