We love fries in our house! And, these fries are so crunchy on the outside with a soft interior, you almost cannot believe they are baked and not deep fried! The secret is soaking them in a salted ice bath first to release excess starch, while also seasoning the inside before baking. The dill mayo sauce is cool and refreshing and a great contrast to the hot crunchy fries!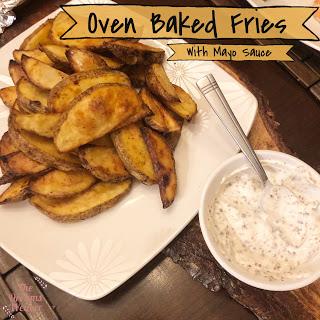 What you will need: 
FRIES:
3 tbsp kosher salt 
2 pounds russet potatoes, cut into wedges 
3 tbsp canola oil 
1 tbsp paprika 
½ tsp garlic powder 
½ tsp onion powder 
Ground black pepper 
MAYO: 
½ cup mayonnaise
4 tsp Dijon or whole grain mustard 
3 tbsp dried dill 
Salt and ground black pepper 
Directions: 
FRIES: 
Stir salt into a large bowl of cold water until dissolved, then add 1 cup ice cubes. Submerge the potato wedges and soak for 20 minutes. 
Preheat the oven to 450°F. Line a baking sheet with parchment paper. 
Drain the potatoes and pat them dry. 
Toss the potatoes in oil in a bowl; then sprinkle with the salt, paprika, garlic powder and onion powder and toss again. 
Bake, tossing halfway through, until browned, about 1 hour. 
MAYO: 
Combine the mayonnaise, mustard and dill in a medium bowl. Season with salt and pepper. Serve with the fries. 
 Enjoy!