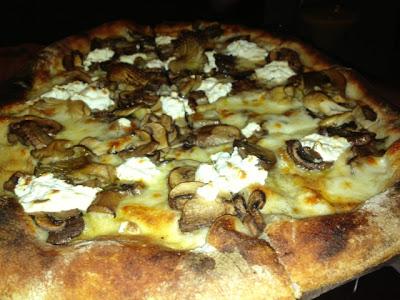 I have heard great things about Providence Coal Fired Pizza for the last month so I could not wait to try out another take on the classic pie. Pizza is no new thing to Providence or the world really. It is so easy to make a mediocre pizza and there is a ton of it out there.This pizza is no such thing! It is delicious!
Atmosphere: Providence Coal Fired Pizza has a great atmosphere with long tables by the bar and smaller tables by the windows. This is the perfect happy hour spot for a large group or if you want to mingle with strangers ( hey some people like that.) There are even bar seats near the coal fired oven so you can watch the pizza makers in action!
Food: If you are looking for pasta, or entrees there is none of that here. Honestly, it wasn't missed. Providence Coal Fired Pizza has about eight pizzas to choose from and some ridiculously good appetizers.... and beer. Did I mention beer? They had a great beer selection if you like craft  beer.  
We started off with the pork ribs. They has an amazing texture that was from the rub. It almost tasted like bread crumbs. These ribs fell right off the bone and were delicious! The cabbage and apple slaw with caraway was a great contrast to ribs. The coal fired chicken wings  with rosemary were also delicious ( not pictured because we ate them too soon.)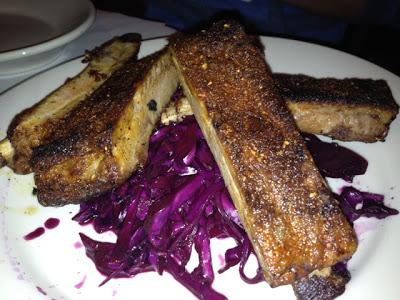 Goat cheese is one of my favorite things on earth so of course we tried that as an appetizer also. I never really thought to roast goat cheese, but man it is a masterpiece when combined with the roasted vegetables and charred pita. If you like goat cheese this is a must!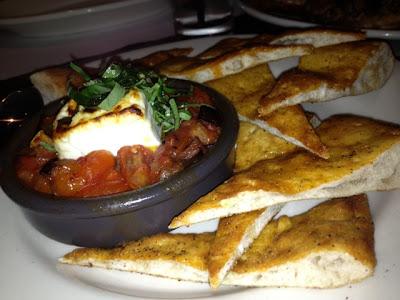 And of course for the whole reason we went here, THE PIZZA! Providence Coal Fired Pizza has different kinds of pies for different tastes. My husband is a traditionalist, always sticking to pepperoni. You know when slices of pepperoni form a cup of oil when baked and it is the most delicious thing on earth? Yup, the pepperoni did that. The pizza here is thin in the middle and thicker towards the crust, which is interesting because usually the thin crust pizza I eat is thin all around. It was super delicious. Not too much sauce and not too much cheese ( is there ever such a thing?)We also shared a truffle mushroom pizza, which was delicious!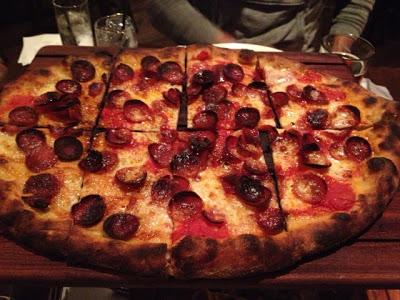 Overall, we had a great experience at Providence Coal Fire Pizza. We actually went back the next weekend with friends to try more pizza because we did not have enough! If you are in the mood for pizza and are sick of the same old routine then visit Providence Coal Fired Pizza. You will be glad you did!