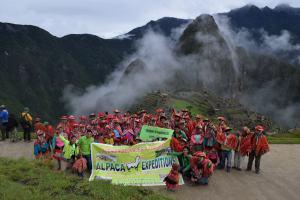 By Lisa McClendon Sims
In February the Inka Trail is closed due to heavy rains, government maintenance and the cleaning of the Trail. Alpaca Expeditions took the opportunity during this off month to create lots of activities such as, cleaning the trail for the Lares trek, the Huchuy Qosqo Trail, Inka Trail, and the training for our chefs and guides. We decided to reward our best Inka Trail group of porters and their families with a journey to Machu Picchu. They are from the community of Wakawasi located in the Lares Valley – all of them native Quechua-language-speakers who had never been to Machu Picchu even though they had trekked the Inka Trail hundreds of times. Wakawasi porters were the most organized and responsible porters in 2014. In total there were 65 people who went to Machu Picchu – 35 adult porters and their wives and the rest were children around the age of 8.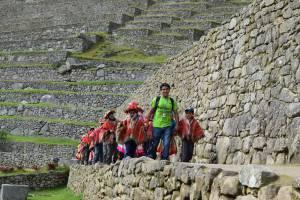 This journey started on Saturday, February 28
th
, 2015. Wakawasi is at 3800 meters above sea level. We collected them from their village in two buses to transfer them to Ollantaytambo (a very colorful Inka town) to catch the 7:00PM train to Aguas Calientes. It was so nice to see how excited they were (especially the children!) considering that this was happening for the first time in their lives! After the two hour train journey we arrived in Aguas Calientes. We took them to the restaurant El Tupana Wasi to enjoy dinner as one big family and to enjoy our vacation together.  After dinner we headed to our hotels, all provided by Alpaca Expeditions. We decided to meet the next morning at 5:00AM to be first in line to catch the first buses up to see the ancient ruins at Machu Picchu.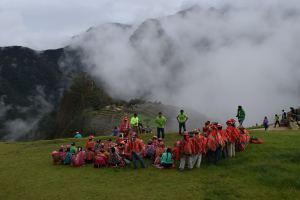 On Day 2 we met at the hotel lobby for an early breakfast and then walked to the bus station. All the tourists and other Machu Picchu visitors were so captivated to see such a big group -all wearing their traditional clothing! We were on one of the first buses to leave and everyone was so happy to have such a nice morning. We arrived at Machu Picchu and the most exciting part for them was when we got to the Watchtower House of the Inkas. Our porters, their wives and children were overjoyed that they were at the New Seventh Wonder of the World, a dream-come-true for these farming families who frequently never leave their villages. And here they were in the magnificent ruins that were built by their ancestors, the Inka! After checking identification at the Entry Checkpoint, we all headed to the popular lookout point for Machu Picchu where they all got their family pictures.  We then began with their tour of Machu Picchu (in Quechua!!)- thanks to our marvelous guides, Amoroso, Elio, Yoel, and Sabino. We explored all of Machu Picchu and took loads of pictures of them which we are going to make into a DVD/ video for them. Finally we returned by bus from Machu Picchu to Aguas Calientes for lunch, then took the afternoon train at 2:55PM to Ollantaytambo where Alpaca's buses waited for then and drove to their village arriving, around 8:00PM.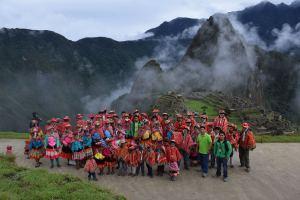 Who are   People?
Wakawasi village is located at 3800 meters above sea level; they are part of the Lares Valley and located in Urubamba province. Their main economic activity is agriculture and they farm potatoes mostly, though of course, they do have llamas and alpacas as well. Our company employs most of the people of this village as porters and horsemen.
We want to make this a tradition.
Machu Picchu, as a New Seventh Wonder of the World should not only be visited by tourists. It should also be known and visited by the local people, to put them in touch with their history and heritage. Unfortunately, even the cost of travel makes the likelihood of this happening prohibitive for them. Alpaca Expeditions has now begun this tradition and we hope in the future, to be able to share Machu Picchu with all our porters and their families, especially their children. Not just for them, but also for other villagers who have never been to this magical Inka citadel.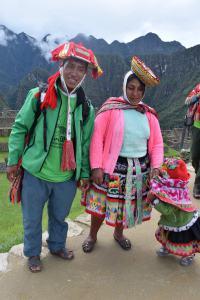 Our next group will be in August, which is during winter vacation for the schools in Peru (Southern Hemisphere). We decided that we will be taking the residents of two small villages from the area of Ocongate. Ocongate is located at 4100 meters above sea level and belongs to the Ocongate district and Qusipicanchis region. The villages are called Wakatinku and Ullucha and we are expecting at least 100 people including our porters, wives and their children. Then next year in February, during our summer break we will be inviting other villages such as Choquekancha –Lares and Pisaq Communities.
You may be wondering why it is that our porters have hiked the Inca Trail so many times, yet never seen the ruins. The Peruvian government rules do not allow our porters to enter Machu Picchu from our last campsite, so their only options are to go on their own, or not go at all.
In their lives in their villages, our porters are subsistence farmers, living very close to the land. Many of them use the barter system to get the things they need, trading potatoes and other things they farm for what they cannot grow. Money is very hard to come by; therefore many of the things that cost money remain out of reach for them.
Going to Machu Picchu costs money. First they have to get from their remote villages to Cusco. They need transportation, hotels, meals, and bus tickets to and from the ruins. Plus they usually have several children in tow to take into account.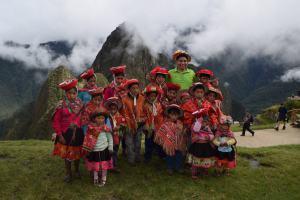 How can you help to be part of this project?
Just by choosing us as your trekking company you are already helping these families make it a reality to have the opportunity to visit Machu Picchu. Alpaca Expeditions is working to make the lives of our porters and their families better, from the viewpoint of learning about our culture and environment.
You can help us to create trips to Machu Picchu for more people who have never been and help them have the opportunity to see what their ancestors created. You can help with making contributions toward purchasing train tickets, hotels or simply economically supporting this project. We can purchase any tickets on your behalf for them – just contact Alpaca Expeditions.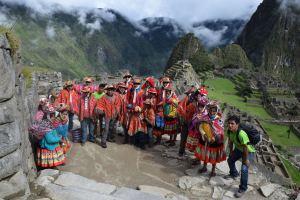 Why did we start this project?
Just as many of us (and as many of you) love to travel and explore the various attractions all over the world, our local people would also love to travel. Unfortunately, due to their economic situation they are not able to make it happen. But we at Alpaca Expeditions consider that is very important for them to know their heritage, especially living so close to one of the Seven Wonders such as Machu Picchu. We decided that by helping them to make this happen it would help them to better appreciate their magnificent culture in Peru.
Believe it or not, there are even some children that have never even been to the city of Cusco. We would love to help them have the opportunity to get to know some of our other heritage and history besides Machu Picchu.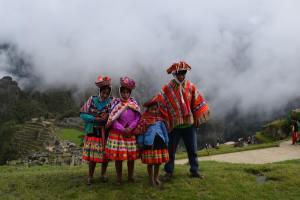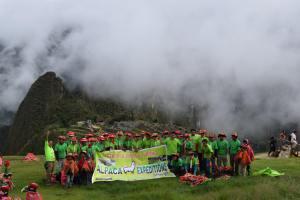 http://www.alpacaexpeditions.com