Never had I thought even in my wildest dreams that one day I would become a fur-mommy! Ideally, I would have liked a sibling for Ms. Riri, but life doesn't always go as idealized. Destiny has a plan for each one of us and things just happen according to that plan.
Long story short, if you remember this Tuesday's post HERE, point 38, I mentioned my past postpartum depression and current anxiety disorder- it dampened everything for me. When I look back at what I went through mentally and physically owing to my postpartum depression six years ago, I get chills. That my-body-hurts-everyday feeling, running-to-doctors-every other week to quell my everyday pain experience soured all the beautiful moments of me becoming a new mom, which to-date scares the hell out of me. I wanted to have more kids but my postpartum recovery with the first pregnancy wasn't pleasant and it sure came in the way of me trying to have more kids. It was like a mental-block that I couldn't get over. I tried hard but I couldn't persuade myself into becoming a mother second time. I was blessed I had no trouble getting pregnant, but the thought of becoming pregnant again mentally troubled me. My brainwave did not match with what my body desired and I had to let go the idea of having more kids. I was scared of going through that after-experience again.......tears rolling!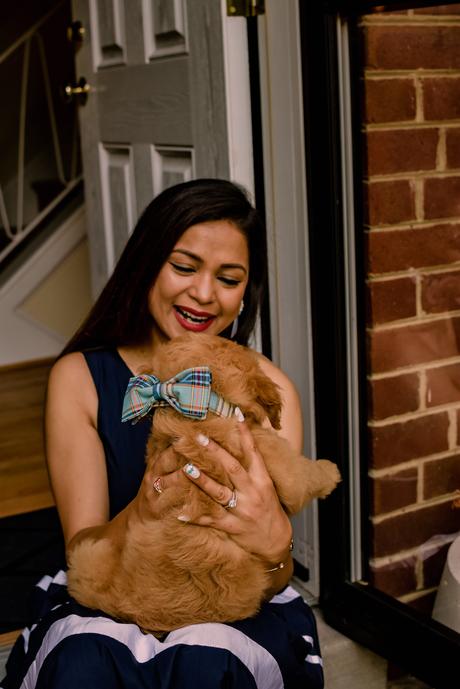 Fast forward, we decided to bring home a fur-baby. Ms. Riri needed a companion, and I know a fur-buddy can in now way replace a human-buddy, but her mom couldn't give her that experience. I hate myself for that but I am glad she never asked for a sibling and is quite happy and glee with her little fur-brother.
The dog adoption process.
We got Maze from a breeder up in Pennsylvania. We had promised Riri a dog for her tenth birthday but considering the global health circumstances and the loneliness she would face during the summer vacation, we decided to bring Maze a few months early. The process wasn't fast and easy- I guess everyones adopting a puppy these days. Putting a deposit on one was becoming harder, almost impossible. The puppies that we would like would get spoken for way quicker than we had thought- we needed to act fast. Riri would stay logged on to the websites tracking down the available puppies. She would wake up early and sleep late to stay ahead in the adoption-game. Kit Kat alias Maze and his siblings got listed one morning and Riri immediately chose the one she wanted and we went ahead and made a deposit, without inquiring much. We called the breeder personally and asked him to send more information and pictures and that was it. We had officially and virtually adopted a puppy, but we had to wait till Maze was eight weeks old to bring him home. We drove down to Pennsylvania and welcomed Maze home- Riri's little brother.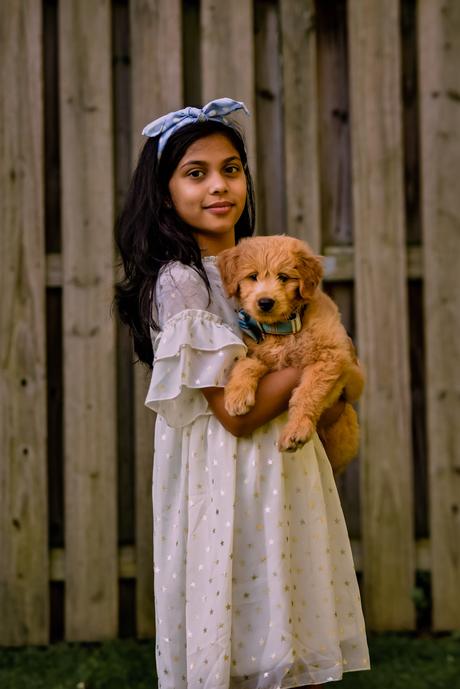 A little about Maze and his breed.
As I write, Maze is eleven weeks old. He is a ten pound, apricot-colored Mini Goldendoodle- a mix of Golden Retriever and Poodle. Early on we were under the impression that Maze would be a 30 pound dog and would be allowed on a plane inside the cabin with us, but our Vet cleared up the confusion - Maze would actually be a 50 pound dog as his mom was a 60 pounds Golden Retriever. Bam, Maze will now have to travel in the luggage area if we bring him to India. Not what we had bargained for, but we will now have to reevaluate our options of traveling with Maze. We picked out this breed as it doesn't shed much, it is hypoallergenic, it doesn't smell much and it is a family breed.
Maze is just a sweetheart. He has surely won our hearts and is the apple of our eye. He is very playful and the way he greets us in the morning is beyond amazing. He just jumps over us, is super cuddly and wags his tail non-stop. He wants to eat what we eat, my heart melts over those innocent eyes gazing at us when we are eating, but I have to keep my motherly emotions aside and feed him the dog food brand suggested by his Vet. His breed needs special type of dog food and Maze is served a mix of wet and dry dog food. At this age all he does is eat, play, poop and sleep- just like a little baby. It is so divine to watch him sleep. He sleeps with his face tucked in his fuzzy pillow. He is a fast learner, we've had him for three weeks and he almost potty-trained, he follows words like jump, sit, stand, fetch, drink water and sleep, go call daddy, and go call Riri. He loves his treats and would do anything for it. As of now he is barred from doggy playdates as his shots aren't up to date, we will have to wait until the 22nd for his 12 weeks shots, thereafter which he will be allowed to socialize with more people and dogs.
It has been a life-changing journey. Our days have changed, we are busier and we couldn't have had it any other way. We love Maze and he is our mischievous bundle of JOY!!