Mastering the art of makeup for the who's who of Hollywood, here's how thanks to celebrity makeup artist, Hayley Dutton.  Deep shades of red are SOOO on trend at the moment, this mulberry color really brings an element of elegance and glamour to such an on-trend shade and ties in perfectly the blue tones you see in Naomi's gown.  If you are going to try this statement lip, definitely pair it back with soft eyes!  I love the idea of more cool charcoal shades with this deep mulberry lip. Keep the eye to more of a romantic smokey rather than a heavy smokey, apply your gray or charcoal shade on the eyelid and blend softly just above the eyelid, not too high.  Then bring this same color down underneath the eye softly to slightly smoke things up.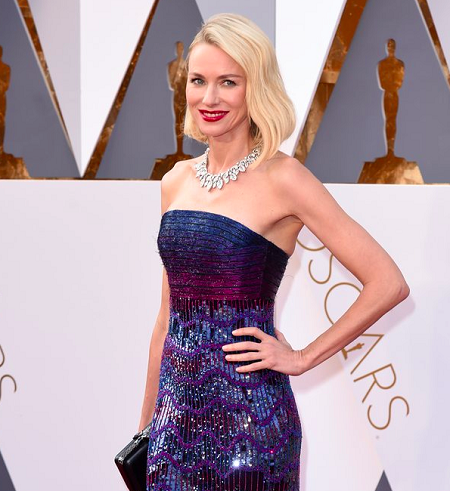 STATEMENT MULBERRY LIP – NAOMI WATTS
Finish the eye with a fine gel or liquid eyeliner on the top lash line, keep the bottom lash line free from liner to keep it fresh and clean.  3 to 4 coats of your favorite mascara to both the top and bottom lashes are a must.  If you are going to contour, keep it really high, you just want to highlight the cheekbone by applying your cream or powder contour just under the cheekbone.  Use your mulberry lipstick as a lovely light cream blush, you can apply with your fingertips – just keep the application light.
Oscars makeup from Hayley Dutton
Margot just seems to get every look completely right!   This natural neutral makeup look works perfectly with her super sparkly gold gown.  It's a must to pair the makeup and hair down when you are rocking such a statement dress. Start with a natural base, look for something with a velvet matte finish, nothing too dewy or too matte – something in between. Strong brows are essential, but definitely more of a natural spin on the brow rather than the structured brows we have moved away from this year.  Go for a shadow rather than a pencil or gel to achieve a lighter definition on the brows.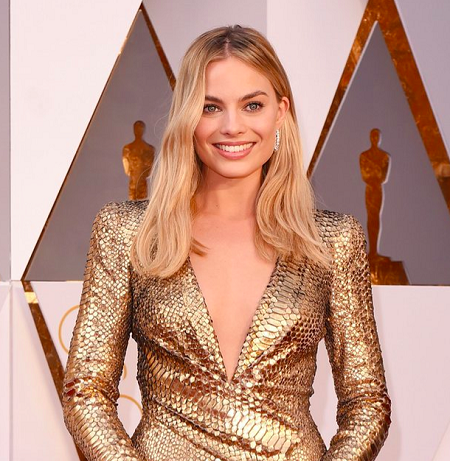 NATURAL GLAMOUR – MARGOT ROBBIE
For the eyes, go for neutral shades such as bronze, taupe and warm shades of brown.  These will work well for all eyeshades, and particularly well for those blue eyed babes like Margot. Apply shade to the eyelid only, if you bring it down under the eye – keep it soft. Opt for a pencil eyeliner on the top lash line and use an angled eyeliner brush to soften the edges so there is no harsh line.  Finish the look with 2 to 3 coats of mascara.  Lips need to be a deeper nude, something that stands out enough,  otherwise your lips tend to get a little washed out.  If you're fair to light skin opt for a rose beige or warm pink beige, olive to medium skin go for more of a caramel, beige and finish with a darker nude gloss. If you have dark olive to mocha tones to your skin opt for more of a rosy pink or mauve nude lip.
Oscars makeup from Hayley Dutton
Now this is one lady who knows how to rock a matching lip and dress combo!  We have seen her do this with bright pink and vampy red – but this tangerine is NEXT LEVEL.  Completely owning this look teamed with her beautiful dark and and dark eyes.  A beautiful bright orange lip like this needs to be complimented by a gorgeous warm brown smoked up eye!  Keep it weighty on the top and bottom, so this means after you have applied your eyeshadow to your eyelid and blended up towards the brow bone just past the crease, take your darker color and smoke up the top lash line and bring this down under the lash line for a smokey finish.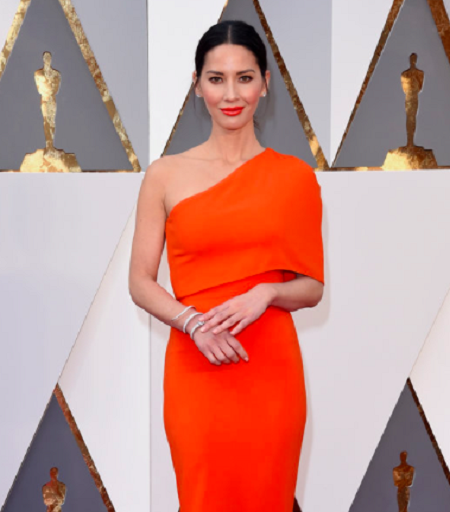 SCREAMING TANGERINE – OLIVIA MUNN
Definitely go heavy with the liner, you can achieve this with a pencil or liquid/gel, whatever you do just ensure that you use a black shadow over your eye liner to smudge out the line.  Olivia has a little bit of a winged eyeliner which goes perfectly with her eye shape, add a little wing for this look, but nothing to geometric, smaller wing just to accentuate and elongate the eye. Go with faux lashes for this one, choose from individuals or full strips, just ensure that you work up to the outer corner of the lashes. This means that if you are using individuals ensure the outer edge lashes are longer than the inner corner and pop a few extra over the top of those outer corner lashes for extra VA VA VOOM.  If you are going for strip lashes, look for ones that lengthen and thicken towards the outer corner.
For the lip, go for a bright orange, burnt orange or tangerine and something with a creamy finish rather than a matte.  You can also double this lip color as a blush.  Tap your ring finger onto your lipstick and then part this onto the back of your hand to ensure you only have a small  amount of product to put on the cheeks, then dab your ring finger in a circle around your cheeks and blend up into the cheekbone for a perfectly balanced lip and cheek.
Haley Dutton can be contacted on [email protected], or find her on her web site for all your bridal beauty, fashion photography and Film makeup events.