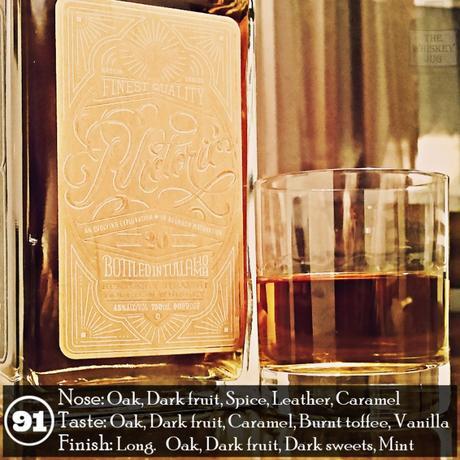 Of the releases to-date the Orphan Barrel Rhetoric 20 years is my favorite and the 21 yr release that will be coming out later this year is even better! But let's not get ahead of ourselves since we have many months to go before that one graces us with it's presence.
This release, the Rhetoric 20, comes from Heaven Hill but is rather significant because it's made from juice that was distilled at the Old Bernheim distillery before it burned down in late 1996. Being a 20 year bourbon released in 2014 that means the youngest juice in the bottle was distilled in 1994, 2 years before the fire. It could hold some older stuff too, but that's not overly important. What's important here is that you're getting to try the old style Heaven Hill juice and while the stuff they make now is great, the Old Bernheim stuff is even better.
Orphan Barrel Rhetoric 20 years Review
Distiller: Heaven Hill (Old Bernheim)
Age: 20 years
ABV: 45%
Mashbill: 75% corn, 13% rye & 12% barley
Price: $100
EYE
Dark caramel
NOSE
Big oaky nose with notes of dark fruit, spice, leather, caramel and vanilla. Some lighter notes of bing cherries and mint add a nice bit of dimension to the overall aroma.
PALATE
Like the nose it's a big oak filled flavor that has some nice notes of dark fruit, caramel, burnt toffee, vanilla, leather and dark fruit. A light bit of cinnamon, nutmeg, and an almost coffee like quality give it a great complex flavor that I'm really enjoying.
FINISH
Long and oaky with mild notes of dark fruit, dark sweets and mint.
BALANCE, BODY & FEEL
The oak is heavy but there is enough other strong flavors also going on that it isn't one noted, but it's also not completely balanced either. Round body with a thick heavy texture and mild burn.
OVERALL
The Orphan Barrel Rhetoric 20 is my favorite so far. I love big oaky bourbons and even if they're a bit unbalanced I love the rich depth of flavor and the deep warm aroma old oaky bourbons can have and this is no exception. I recently got to taste a preview of the upcoming Rhetoric 21 at a Diageo event and it's even better so keep an eye out for that one later this year because it's going to be good.
SCORE: 91/100