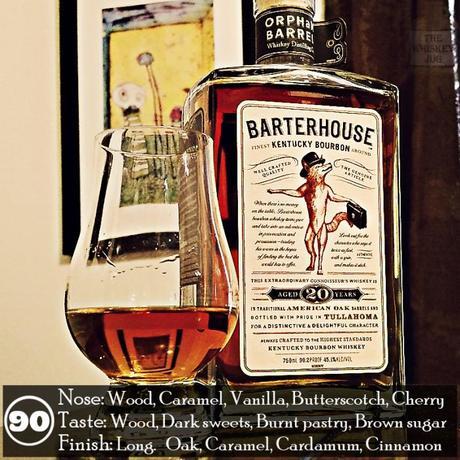 When the Orphan Barrel Barterhouse came out Diageo was claiming that they "found" these barrels in Stitzel Weller and didn't know where they came from. That ruse lasted about 2 seconds on the internet as folks like Chuck Cowdery picked up the scent of misinformation and ran with it. The long and short of it is that you can't lose a barrel in a warehouse. It's almost completely impossible.
I bring this up because at a recent Diageo tasting for the 2 latest Orphans, Forged Oak and Lost Prophet, Diageo has changed their story and even the brand ambassador in charge that night was cracking jokes about how you can't lose a barrel. Instead they're take a more honest approach and saying that they're looking at old stocks of whiskey, finding what's good and putting it out. Sure there are still some shenanigans taking place, but it's getting better so kudos to them for that small step.
Orphan Barrel Barterhouse Bourbon Review
Distiller: Heaven Hill (New Bernheim)
Age: 20 years
ABV: 45%
Mashbill: 75% corn, 13% rye & 12% barley
Price: $90
EYE
Caramel
NOSE
Woody wood wood wood. Big ole woody nose that has notes of caramel, vanilla, butterscotch, complex cherry heavy dark fruit and rich baking spices (cinnamon, clove, nutmeg and so on) hanging from it like ripe apples. There is a strange wood varnish character hanging out underneath all of the dark rich notes, but it's not strong enough to be distracting.
PALATE
Rye spice kicks things off… just kidding, it's wood! The woody nose translates to a woody palate that gets some added dark sweet notes of caramel, burnt pastry, brown sugar and molasses which get joined by the same rich baking spices and dark fruit notes from the nose. Though the palate takes it even further and introduces notes of leather and tobacco to the group.
FINISH
I know you're going to be surprised by this, but oak dominates the finish and some light notes of caramel, cardamum, cinnamon, leather and vanilla round it out on it's long slow fade.
BALANCE, BODY & FEEL
Good balance with a rich thick body and an oily texture that runs a bit hot but is fully manageable.
OVERALL
All the BS marketing aside I really do enjoy the Orphan Barrel Barterhouse and if you think about it, it's not a shabby deal. $90 for 20 year old bourbon? Look at the Elijah Criag 23 year or the Pappy 20 year? That stuff is all going for $200+ and here you have a 20 year old bourbon from a great distillery that you can snag for 1/2 of that (if you can still find it). Yeah I know it's Diageo (boo hiss whatever) and I know that the marketing is silly, but the bourbon is good and at the end of the day THAT's the only thing that truly matters.
SCORE: 90/100