Hi everyone,
Hope the week went well for you. I don't post like before, every other day but will do so 2  to 3 times a week because I want quality posts and reviews on the blog hence forth. I have not been well lately and taking medication which has caused me serious nausea and diarrohea but I consulted my doctor and I am much better now. So I am excited to talk about this EDT from Oriflame. I shall be talking about the Oriflame Vivacity Eau De Toilette (EDT) Perfume on the blog today. Read on to know more.....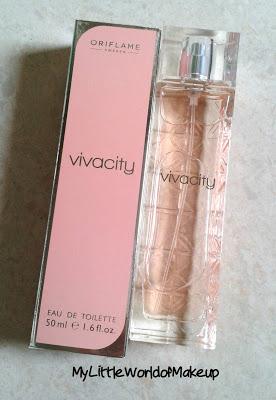 Oriflame Vivacity Eau De Toilette (EDT) Perfume Review
Price: Rs.1999/- for 50 ml.Available at Rs.1499/- in the current catalogue
Oriflame products can easily be purchased through any independent Oriflame consultants across India.
Ingredients:ALCOHOL DENAT., AQUA, PARFUM, BENZYL SALICYLATE, LIMONENE, ETHYLHEXYL METHOXYCINNAMATE, GERANIOL, BUTYL METHOXYDIBENZOYLMETHANE, ETHYLHEXYL SALICYLATE, LINALOOL, CITRONELLOL, CITRAL, HYDROXYCITRONELLAL, BENZYL BENZOATE, BHT, PHENOXYETHANOL, CI 16035, CI 19140
Description by the brand:
Vibrant and full of joy, Vivacity Eau de Toilette is the essence of the spontaneous, free-spirited woman.
Sparkling pink grapefruit, delicate orange blossom and sensual vetiver mingle beautifully, filling you with exhilaration and delight • Beautiful heavy glass bottle About Vivacity Every moment is bliss. Enjoy life's unexpected moments and live passionately, spirited and carefree.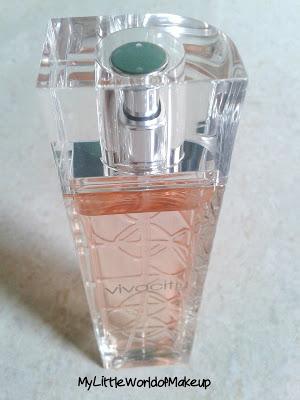 Oriflame Vivacity Eau De Toilette (EDT) Perfume Review
HOW TO USE
For best results...
Spray the fragrance into the air and walk straight into it. 2. Reapply throughout the day or whenever desired. 3. Adapt your fragrance according to the seasons: a light scent in the summer and a rich scent in the winter.
The perfume comes in a pink and gold rimmed cardboard container packaging. The ingredients, price are mentioned on the box. The perfume bottle is tall and slender and ohh so sexy with a lovely print on it but plain on the back. The cap is transparent and sits well on the perfume. This one looks attractive sitting on your vanity.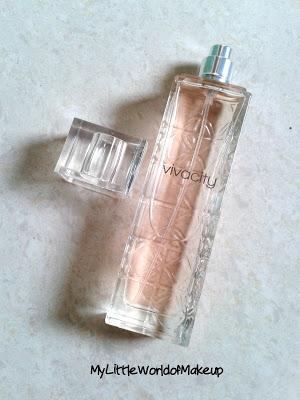 Oriflame Vivacity Eau De Toilette (EDT) Perfume Review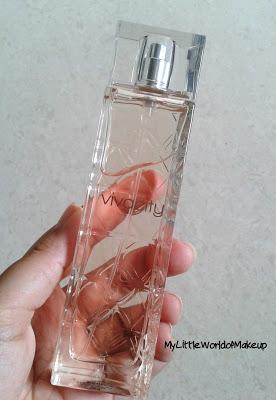 Oriflame Vivacity Eau De Toilette (EDT) Perfume Review
I always believe in personal hygiene you don't wear make up fine but I judge people with bad breath and bad body odour. There is not a single time I may have left the house without perfume or deodrant. Also I prefer perfumes over deodrants as they are long lasting any day.
When I spotted this in Oriflame's catalog had to try it. Like everyone else I have my own fragrance preference and its a task for me to buy a perfume as I do not like overpowering scents like citrus, floral or woody. This seemed made for me and has notes of Pink Grapefruit, Orange Blossom and Vetiver. The fragrance makes you instantly feel fresh and energized which is what I look for in a perfume. It lasts for 6 hours at least, in extreme hot weather one may have to reuse which is ok in my opinion. The smell is classy and fresh and a must try for every woman in my opinion.
MLWM Rating
: 4.8/5
Oriflame Vivacity Eau De Toilette (EDT) Perfume is one of the best perfume I have tried from Oriflame and looking to explore other variants too.This is perfect for every woman in my opinion. I highly recommend this one.I hope this post was useful as well as informative to all those reading. Have you tried any of Oriflame's fragrances before?? Do let me know in the comments section.Until next time.. Take care xoxo