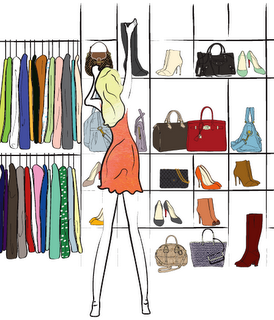 Section out your wardrobe by categories like tops, bottoms and dresses or color coded from light colors to dark ones.
 Place those clothing categories in order by the season. Now for the fall, put your cardigans and pullovers to the front and your shorts and rompers in the back.
Make good use of any shelf space by  keeping your shoe boxes and labeling each box with the image of the shoe inside. This way, you can see what's inside each box, and boxes are much more easiy to stack than shoes by themselves.
Take your bags and purses off the shelves (or floor) and hang them on the closet walls to utilize the space in the best way.
Use a small dresser or Ikea type storage for clothes that don't need to be hanged, like undergarments, socks, etc.
Donate or throw out any clothing items that you haven't worn in the past six months to clear out the closet clutter.
Today is the guest post day, and today's was brought to you by Cheryl of Oh to Be a Muse, a fashion and style blogger who focuses on inspiring style.
A very warm welcome to you, Cheryl.
You are my first friend from the blogosphere. Ain't a new blog world friend the most wonderful gift I could have got on the first month birthday of AllThingsSixx. :)