Hi everyone,
Today I shall be reviewing Organic Harvest Monsoon Sunscreen Lotion SPF 30 in my blog post today. If you remember I had reviewed their cute looking lip balm on the blog before and how I liked it. Organic Harvest is a one of a kind brand which makes products using organic ingredients, free of chemicals. They have many outlets/stores in the country and I happen to attend a bloggers meet/store opening at Juhu, Mumbai.I have been using this since monsoons have started here and we have good rainfall this time which was much needed actually. Read on to know more about this sunscreen and how it fared for me.......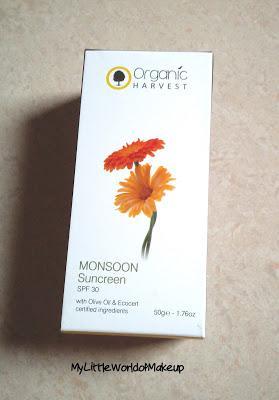 Organic Harvest Monsoon Sunscreen Lotion SPF 30 Review
Price
: Rs.495/- for 50g. Available online
HERE
Key Ingredients:Olive oil, Clay minerals, Certified Organic Ecogel and Sepimat, in Cream base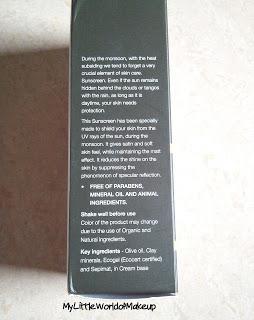 Organic Harvest Monsoon Sunscreen Lotion SPF 30 Review
What does the brand say about the product:
During the monsoon, with the heat subsiding we tend to forget a very crucial element of skin care. Sunscreen.
Even if the sun remains hidden behind the clouds or tangos with the rain, as long as it is daytime, your skin needs protection.
This Sunscreen has been specially made to shield your skin from the UV rays of the sun, during the monsoon.
It gives satin and soft skin feel, while maintaining the matt effect.
It reduces the shine on the skin by suppressing the phenomenon of specular reflection.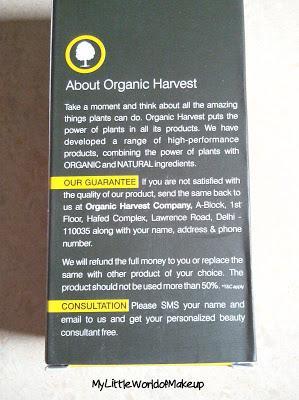 Organic Harvest Monsoon Sunscreen Lotion SPF 30 Review
Packaging:
The sunscreen comes enclosed in a cardboard box. The bottle is made of plastic and is very cute. It has a pump dispenser which is a life savior and works on lock mechanism which is why it makes it travel friendly as well. The bottle is transparent and the product is easily noticeable from the outside.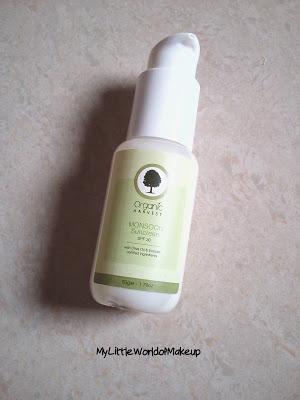 Organic Harvest Monsoon Sunscreen Lotion SPF 30 Review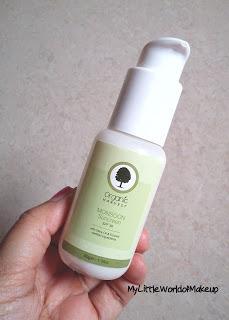 Organic Harvest Monsoon Sunscreen Lotion SPF 30 Review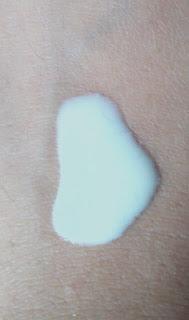 Sunscreen is a very important of skin care regime and ignored by most of us in India especially. Also we are easily proned to getting tanned. The damage that sun causes is something most people are not aware of. So until I became a beauty blogger which was like 4 years ago I was not even aware about sunscreens that much.
So coming to my review this has a lotion kind of consistency. It is light weight and smells like sweet lassi (yoghurt mixed with sugar) which I love, the smell does not linger which is good though. The product gets easily absorbed into the skin and gives a matte yet moisturizing effect. The skin feels soft and nourished post use.Those who have oily skin might find the skin getting a bit greasy after a couple of hours, blame it on Mumbai humidity (my experience)  I would suggest using a powder over it if you do apply make up to keep the skin oil free. Mind you suncreen needs to be applied even while at home and not only while heading out.What I like this one is chemical free and full of natural ingredients and gives me sun protection even during monsoons. SPF 30 is perfect in my opinion. I like this sunscreen so far.
The Good:
Easily available
Protects against UV rays
Smells nice and mild
Texture is light weight
Blends easily into skin
Gives matte yet moisturizing effect
Contains SPF30
Ideal for monsoons
Cruelty and chemical free
Organic and natural ingredients used
Travel friendly
The not so Good:
Only key ingredients mentioned
Skin gets oily after sometime
Rating: 4.2/5
Organic Harvest Monsoon Sunscreen Lotion SPF 30 is apt for monsoons in my opinion. Even if the sun is not shinning bright like it would on a sunny day your skin still needs some protection. I recommend this product to everyone
I hope this post was informative and useful to everyone reading. Comment below with your inputs and let me know if you have tried any product from Organic Harvest before????
Until next time.. Take care and Happy Friday xoxo