Hello everyone,
Summers are officially here and omg! I just hate the fact that this Mumbai heat is going to make me miserable as it is always hot here, Sigh! If you are from a middle class family like me using the air conditioner throughout the day is a NO - NO unless you promise your father you are going to contribute in the electricity bill payment.. Lol!!! So if you are really worried about your skin you would know summer is the worst season for the skin as we tend to face a number of issues if we don't take care of it and the number 1 issue is 'Tanning'. You may try the best sunscreen in the world but you would still get tanned a bit and trust me on this,so scrubbing, masking and taking necessary precautions is a must. I have had the Organic Harvest Anti Tan Scrub & Mask in my collection from a while and have been testing it. I will be sharing my thoughts in this post today as to what I feel about it, so please keep reading to know more...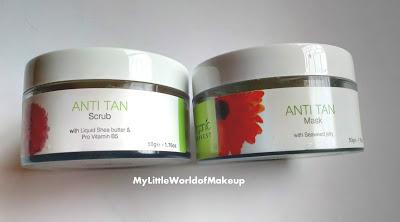 Organic Harvest Anti Tan Scrub & Mask Review
Price of the Scrub and Mask: Rs.545/- for 50g product (Prices may have increased now)
Buy the Scrub HERE and Mask HERE
Packaging: 
They come in a plastic tub which is transparent and comes enclosed in a cardboard packaging. Only Key ingredients are mentioned, hmmm and most brands do that don't they? The tub is travel friendly but to use it I would advise using a plastic spoon as it may tend to get unhygienic.The products are Free of Parabens, Mineral Oil and Animal Ingredients. No Color Added.
Organic Harvest Anti Tan Scrub:
Key Ingredients:
Liquid Shea butter, Pro Vitamin B5, Scrubbing beads, Olive oil, Clove essential oil, Camphor essential oil and perfume in cream base
Brand claims
Organic Harvest Anti-Tan Scrub gently exfoliates your skin, unclog pores and remove tanning. It contains scrubbing beads and olive oil in cream base that will help in repairing sun damage. The scrub combines the benefits of olive oil and liquid Shea butter which deeply moisturizes the skin, thanks to Pro Vitamin B5 that improves skin hydration level of the skin. The scrub gently eliminates dead skin cells and refines the texture of the skin.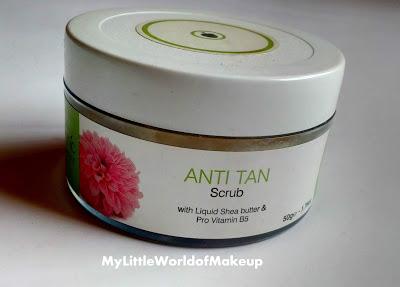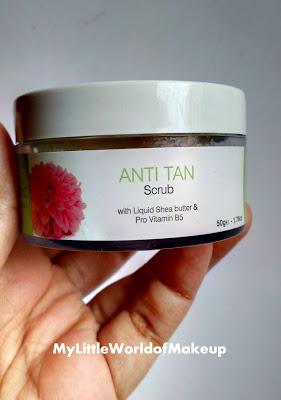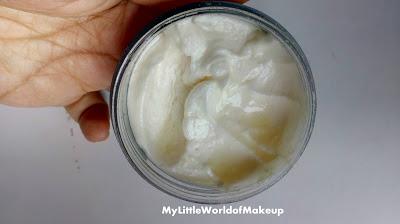 The scrub has a cream like consistency and the granules are not very harsh and not very mild either. The scrub is of great quality and the exfoliation is good enough to make you feel that it is doing its job well. Because I do go for morning walks lately my skin started getting a bit dull as I do soak in the morning sun a bit and the pollution makes my skin dirty. I noticed that the scrub does brighten my face and makes it look clean and polished. It cleansed my pores well. All in all I am happy with the scrub and do recommend it.Organic Harvest Anti Tan  MaskKey Ingredients:Seaweed jelly, Certified organic Xanthum gum, Olive oil, Vitamin C, Mulberry extract, Daisy flower extract and perfume in cream base.
Brand claims
Organic Harvest Anti-Tan Mask increases skin elasticity and quickly restores skin hydration. The mask absorbs and removes toxins from the skin surface. Its mulberry extract provide whitening, brightening, and lightening by controlling melanin formation. Organic daisy flower provides even pigmentation, olive oil is an excellent moisturizer and vitamin C improves the appearance of sun damage on the skin.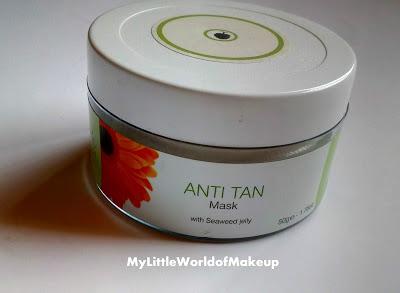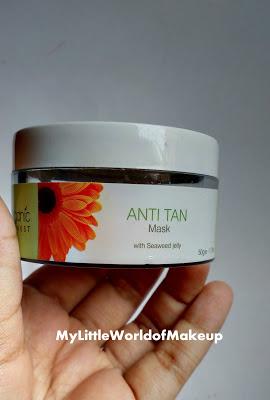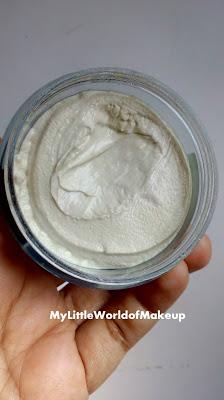 Usually I am not the type of person who will use an anti tan mask unless I am going on a holiday which I am going to go on one soon. As I mentioned before my skin has become a bit dull and lost its shine and brightness thanks to the summer season in India. The mask has a creamy consistency and there is no need to add water to form a paste.I wet my face and apply the mask on my face and neck. I found a little tingling sensation on my face which was not much and did not find the mask causing any redness or reaction to my face which was a good thing. I did not find a vast difference in my face using it the first time but regular use would help to get rid of tan in my opinion.
MLWM Rating for SCRUB:4.5/5
MLWM Rating for MASK: 4/5
Both the products when used in combination will work well and only on repeated use will show results. What I like about these products is that they are cruelty and paraben free but they strangely only mention Key Ingredients.. Hmmm! Well I think most brands do that now but because I have tried their products and liked them I would recommend these to everyone. The price is definitely expensive and one could try if it suits their budget for sure ☺
I hope this review was informative as well as useful to all those reading. Any comments do leave them below would love to hear from you all. Spam comments and comments with links will not be entertained on this blog.
Until next time.. Take care xoxo