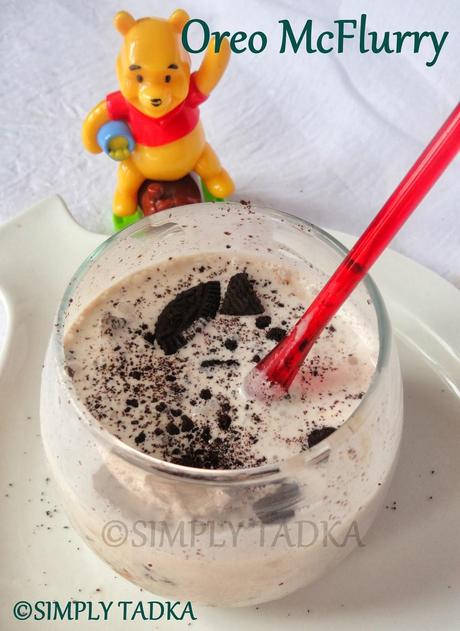 I love McFlurry, soft serve ice cream and McVeggie burger all this are my 
favorite
 menu which available at 
McDonald
  In McDonald, McFlurry available in two different variations, one is Oreo McFlurry and second is M&M Mcflurry But I like Oreo one. Today I wanna share McFlurry recipe with my reader.
This time I tried Oreo McFlurry at home with three simple ingredients are ice-cream, chocolate and Oreo cookies. I hope adults and kids both will be like it. You can use M&M candy also in this recipe which gives crunchy bites or you can go with both. For this recipe, just mix the crushed 
Oreo
 with ice-cream and garnish with chocolate sauce and serve in glass.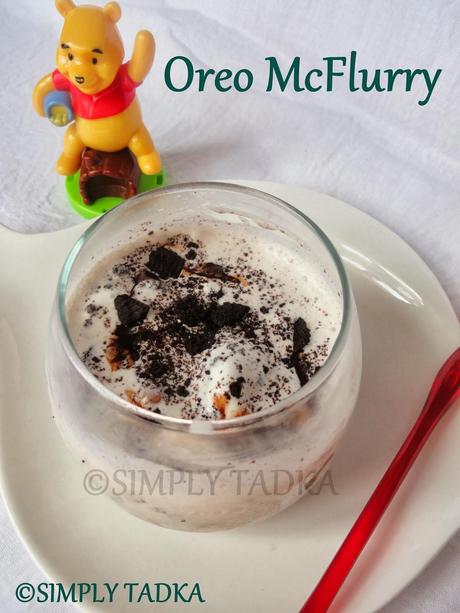 Preparation Time: 10 Minutes
Cooking Time: 0 Minutes
Servings: 4
Category: Dessert
Ingredients:
16 Oreo Biscuits, Crushed
8 Scoops Vanilla Ice-cream
8 Tbsp. Chocolate Sauce
2 Tbsp. Milk
Instruction:
Combine Ice-cream and milk together and whisk till to smooth and creamy texture.
Add crushed Oreo cookies and mix it.
Garnish with chocolate sauce and serve.
Tag: How to prepare Mcflurry, McDonald Mcflurry, Oreo Mcflurry, Cookies
Blogging Marathon page for the other Blogging Marathoners doing BM#33
Enter your email address:
Delivered by
FeedBurner