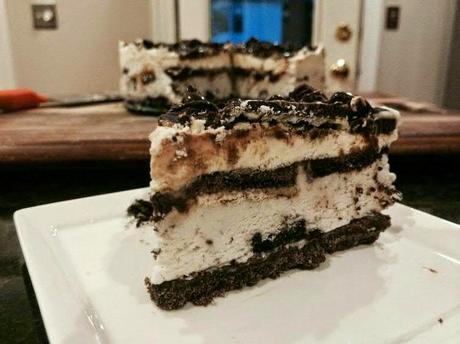 So Sunday was National Ice Cream Day. What better way than to celebrate with an ice cream cake! It also happened to be my Hubby's birthday and this amazing cookie explosion cake was his only request. 
He is pretty obsessive about cookies and cream ice cream so why not make a huge cookies and cream cake covered in oreos and fudge? Ice cream cakes are surprisingly expensive in the market and who knows what crap they put in them. I got organic ice cream, cream, fake Whole Foods Oreos and they were just as delicious as some ice cream cake from the supermarket ... dare I say BETTER. Whipping your own whip cream is such an easy step and it has so much more flavor than cool whip. Not to mention it has no hydrogenated oils so don't skip this step.
Not a fan of oreos? Make this cake into whatever you want! My next one will be a Reeses Explosion Cake. Melted peanut butter, fudge, chocolate ice cream. SO AMAZING. Here are some other ideas:
Almond Joy : Coconut ice cream, hot fudge, crushed almond joy candies
Cherry Garcia: Strawberry ice cream ( or cherry if you can find it) crushed frozen cherries, chocolate chunks, chocolate fudge
Snickers: Vanilla ice cream, caramel , peanuts, chocolate fudge
The best part about this ice cream cake is making it to fit your needs. You can make it with coconut milk ice cream, gelato for a lower calorie treat or even sorbet! That would be interesting.
Oreo Explosion Ice Cream Cake
Adapted from Lauren's Latest
INGREDIENTS:
1 package Oreo Cookies 
3 tablespoons melted butter
2-2 ½  cups cookies & Cream ice cream
1/2 cup chocolate Fudge Sauce
3/4 cup heavy whipping cream
2 tablespoons powdered sugar
1 teaspoon vanilla
DIRECTIONS:
Remove chocolate ice cream from freezer.
Place 12 Oreo cookies into a food processor and grind into crumbs. Stir in melted butter. Press mixture into the bottom and up the sides of a 6-inch springform pan. Freeze. While you are doing this, keep ice cream on the counter to soften.
Measure out 2 cups of ice cream. Remove crust from freezer and spread ice cream evenly into the bottom. Layer 5 oreos on top of ice cream layer.  Microwave hot fudge 30 seconds and drizzle over oreos evenly. Freeze.
In a large bowl, whip cream with powdered sugar and vanilla until stiff peaks form. Spread over top of peanut butter layer evenly. Top with remaining oreo cookies and drizzle with fudge. Freeze 6-8 hours or until completely solid.
To serve, remove from freezer and sit 10 minutes. After 10 minutes, remove sides of springform pan. Use a sharp knife dipped into hot water to slice easily.