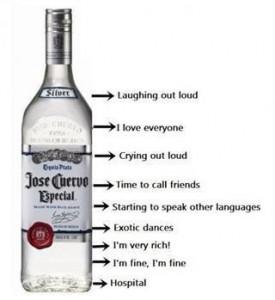 Exactly how did I become the "Designated Dave " of Christmas? For those of you who don't know what the phrase "Designated Dave" means I'll explain. Designated Dave is the person who takes responsibility for getting things done or in some cases getting people together. Whether knowingly or unknowingly you become everybody's go to girl! For example, you and your friends go out partying every weekend and get drunk. One of your buddies doesn't drink but loves to hang out with you guys. She becomes "Designated Dave" because she now unknowingly carries the responsibility of driving you and the rest of the clan home after you guys have had one too many. There's nothing like driving a bunch of drunk folk home, the words that comes out of a drunken persons mouth is priceless! At some point before December 25th, I will be hitting a nice bottle of tequila…..Hard!
This year I have become the Christmas go to girl and every ones personal shopper. Basically, this is what happens, everyone gives me money and I shop for all the presents this also includes my relative's friends. On top of that, I get the wonderful privilege of boxing and wrapping everything all nice and neat for presentation purposes. They sucker me into this by showering me with compliments and telling me I  have such excellent taste. Imagine the look on everyone's face when everyone opens their gifts and find a bunch of rocks. Similar to the time I bought what I thought was a lap top from a guy in a Home Depot parking lot and when I opened it, it turned out to be an old IBM with rocks in it. I was young, naive, and for lack of a better word just plain stupid. So this year not only am I shopping for presents, I get to handle all the catering as well, in fact my sister just told me to make sure we get yams. Well guess what, I have contacted White Castles and pre ordered some sacks and the closest thing she will have to yams is the sweet potato fries they recently added to the menu, Merry Christmas now eat up!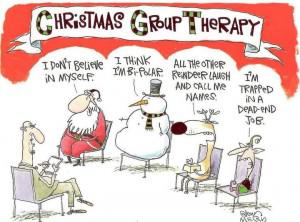 So exactly what is my family doing while I'm shopping, wrapping, and calling caterers? They're out shopping for me which they claim is enough for anybody to take on! I actually like doing this stuff and I'm like a weird combination of Martha Stewart and Ed Hardy so my taste level is not one sided. I will rock a leather suit and spikes and go in the kitchen and bake you a cake.
I could honestly use a Christmas assistant because keeping up with everyone's list and where to order this and that is frying my brain. Who wants this, who wants that, order this from here, order that from there, wrap this, wrap that, call here, call there…go pick this shit up…etc. etc. etc. When Christmas is over you will probably find me in a corner twiddling my thumbs humming some old spiritual. On a positive note, personal shopping may be a business I could look into; I wonder how many people out here are too busy to shop? Or maybe simply don't know how or where to shop.
Next year for the holiday, I see a white sandy beach, me sipping a mai tai, and somebody fanning me as I get a massage

of course I say that now, next year it maybe part 2 to this post.