You work on opportunity's schedule, it doesn't work on yours.
~Kiefer Sutherland
So my husband and I are entrepreneurs.  If there's one thing we live by it is to turn your ideas into something constructive.  We actually started out with this line of thinking early on in our marriage about 23 years ago.  He was a professional window cleaner and every single day he'd come home beat and sore from hanging off a building or climbing ladders – for very little money.  We tossed the idea around of him starting his own window cleaning business and after another couple months of his after work aches and pains, I decided to take it upon myself to do the legwork and get things started.  That was in 1996, with VERY little money, 3 kids under age 6, and a lot of spirit.  We've never looked back.
Of course you have your ups and downs (no pun intended – ladders, lol) when owning your own business but you are your own boss.  You can make it work with a lot of effort and a lot of guts – the first few years are as tough as they are exciting.  You also have to have thick skin because it's a constant learning process and when you are a new company there's a lot of rejection.  Since '96 we've taken a LOT of plunges!  He's opened a putting green installation company, I became an author, and we also started flipping properties (buy them, gut them, re-do them, resell them).  Of course the last one was good until the economy flopped and we're now stuck with a small building which is draining us financially.
"The building" our nemesis. A couple months ago we started watching a show called "Storage Wars".  People buy abandoned storage units and then (hopefully) make some money selling the stuff.  The natural thing was for us to put two and two together and use the vacant space in our building as a resale shop.  The space is sitting there in a recession with no takers on renting it… so let's put it to use!  Plus… this is great to supplement our income in the winter months when window cleaning is slow.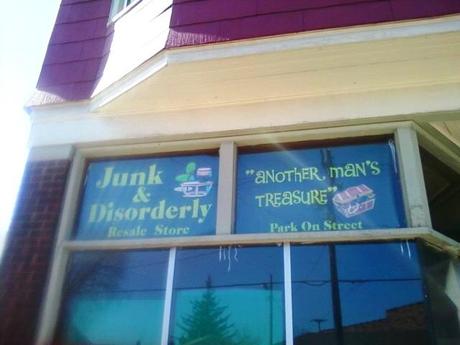 We started making notes and having frequent discussions about the ifs, hows, whys, whens, pros and cons… and came to the conclusion that we would go full force and give it a try.  After 3 months we're almost ready to open our resale shop. We've named it "Junk and Disorderly" – because we also have a sense of humor.  So we spend a couple days a week down there getting ready to open our doors to something new and exciting once again!  The signs are in the window with "coming soon" and we've already told the kids that on summer break they will be helping in the shop a couple days a month to cover the high cost of their car insurance.  I'm not sure where this will take us, how long it will last, or if it will last… but I am looking forward to a new adventure for sure!  So wish me luck as we take yet one more plunge in the pool we call entrepreneurship!  (oh, and eventually I'm going to open up a zen store in the other half of the building…. can't wait!!)
This is the lemonade that everyone talks about making out of lemons.  It took us a while to realize what we could do with this property but the idea came fast and furious when it did appear and we're running with it.  And I think that's a great way to live life.  You'll never know how good you'll be at something or what new surprises are just around the bend… if you don't start walking down the scary path.  What look like monsters and scary things from afar might be cute, cuddly, stuffed animals when you turn the lights on and get closer.  (oh my gosh, that's a great quote!).  Don't be afraid to follow your thoughts and your dreams!  Make that lemonade and see where you end up.  If it's a mistake?  Well, you just march onward and try something different.