When I saw that this collection had been announced to be released I was a little excited.My problem with full size nail varnish is I have never actually finished one..who has?This collection is undoubtedly for the holiday season.
...but with payday and temptations for BuyaPowa this had to become mine.
The Best of the best is a collection of mini best sellers from this year (obviously) from OPI.Theres some delightful and gorgeous varnishes here. No shimmers, but its undeniable their classics.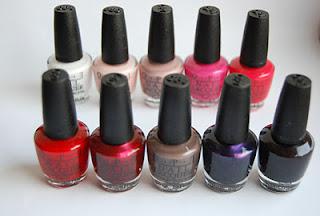 From Top Left To Right: Alpine Snow, Bubble Bath, Tickle My France-y, Strawberry Margarita, Cajun ShrimpFrom Bottom Left To Right: Big Apple Red, I'm Not Really A Waitress, You Don't Know Jacques, Russian Navy, Lincoln Park After Dark
In all honesty I'm most excited about the top row...gorgeous!I'm very much looking forward to wearing You Don't Know Jacques and Cajun ShrimpAs I have read so many reviews about these particular two.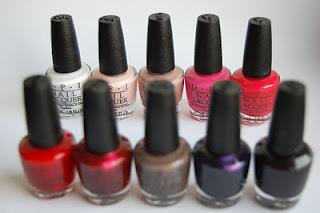 I'm not planning on keeping all of these...I mean how much nail varnish does a girl need?A couple are going to be stocking fillers I haven't decided which yet though! ;)
Wishing you all a fabulous weekend!