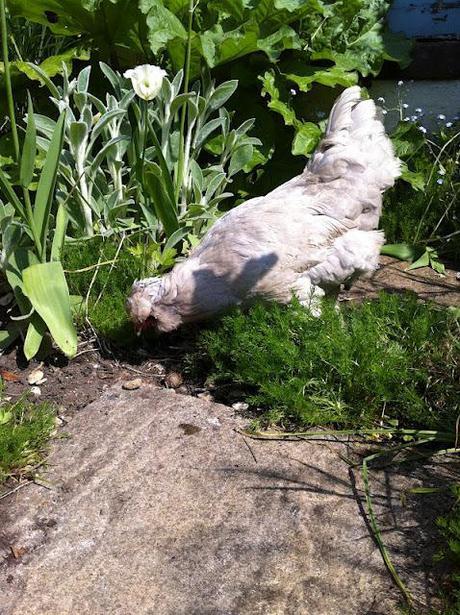 Edna foraging in the garden last year
Chicken introductions rarely go without a peck or two but generally, after a few weeks of discord, a wave of harmony appears to fall on the newly adjusted and coherent flock of egg laying machines. This was not the case initially with Edna the Lavender Araucana.
Edna is a special bird, smaller than the rest of my hens, incredibly docile and with some sort of distorted depth perception, which would almost certainly afford her guaranteed membership to the ministry of silly walks, especially when trying to exit the hen house.
I bought Edna nearly a year ago along with Sophia la Hen and another hen who now resides with my uncle.  Whilst Sophia and the other hen seemed to get along well with the rest of the girls it was all too much for Edna who sustained a small injury in the first week or so.  Anyone who keeps chickens will know just how magnetised they are to the tiniest speck of blood and this unfortunately resulted in her being removed from the coop and taking up residence in my bathroom for a month or two whilst her small wound healed.
Since then she's lived in her own coop and run in my back garden and more recently, over the last six months or so, directly alongside the other girls.  Overtime I've tried to let the girls get used to one another whilst free ranging but the meek Edna has just hidden away.  I've considered giving her away many times but I just couldn't bring myself to do it as she's become part of the furniture and her little blue/green eggs are to die for.
Three weeks ago I made a decision.  I was going to try a second time to integrate her in to the flock and if that failed she would go off to live with a friend who has other Araucanas.  Under the cover of darkness one Thursday night, 'Operation Araucana' begun.  This day was chosen as I would be able to check on her several times a day for the following week to make sure she came to no harm.  Strangely, things appeared to go well.  Of course, there was a lot of chicken noise and a bit of argy bargy initially but all in all Edna appeared more aware of her surroundings, her safe places and she was able to stave off anything beyond a bit of pecking.
Nearly four weeks in and she's almost a member of the flock.  She's still slightly unsure of her place and this results in her getting a few pecks, but you can see that her confidence is growing by the day and she has started to feed and drink happily with the rest of the girls.  To say I'm pleased is an understatement.  All we need now is an egg and I'm hoping it's not too far off!
In competition news, the winner of the flymo lawnmower is: Sue McDermott (@susiemcd1). Please have a look at the competitions and offers page to see what else could be won!