The Mother Of Us All at Manhattan School of Music.
by
Paul J. Pelkonen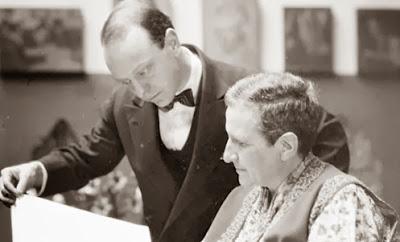 Collaborators and characters. Virgil Thomson and Gertrude Stein,
creators of The Mother of Us All.
Ever since Monteverdi's
L'Incoronazione di Poppea
, the portrayal of historic figures has been crucial to the genre of opera. And no other opera packs in more history than
The Mother Of Us All
, the second collaboration between composer Virgil Thomson and the poet Gertrude Stein. That opera, which premiered in 1947 at Columbia University returned to Morningside Heights on Wednesday night. This new production at the Manhattan School of Music told the story effectively, but felt a bit fusty, like a school trip to a long-lost wing of the Smithsonian Institution.
Mother
is a portrait of Susan B. Anthony, the leading advocate of women's suffrage. In chronicling her fight to allow women the right to vote, Ms. Stein's libretto swarms with allegorical characters and personages from American history, from the lowly war veteran Jo the Loiterer and his fiancee Indiana Eliot to former American presidents Andrew Johnson and Ulysses S. Grant. (And yes, Thomson and Stein are characters too, appearing at the start and end of the opera as and observers of their own little pageant.) Although the goal is to place Ms. Anthony's struggle within the vast framework of this nation's past, the effect can overwhelming.
The cast was led by the heroic, bright soprano of Noragh Devlin as Susan B. She remained the taut focal point of the evening, singing in solo passages and ensembles with a voice that rode easily over Thomson's orchestration and carried the message of this opera with a simple, appealing clarity. The final scene, in which Susan is left alone at her own memorial is touching in its isolation, making one feel the weight and cost of her struggle for liberation.
Alexander Frankel's boyish energy and sweet tenor proved ideal as Jo the Loiterer. Along with his fellow soldier Chris the Citizen (Cameron Johnson), these two ex-soldiers functioned as a sort of Greek chorus, commenting ironically on the sometimes silly actions of the more famous passers-by. Tenor Carlton Moe was an ardent John Adams. Thomas Mulder and James Ludlum bickered as Andrew Johnson and Thaddeus Stevens, their comic debates an effective satire of the moribund nature of American politics. As Daniel Webster, Scott Russell was not as firm and resonant as one would like, and may have been suffering from a vocal ailment.
Gina Perregrino was funny and charming as Indiana Elliot, Jo's intended who eventually trades surnames with him to become "Indiana Loiterer." And the opera's strangest character, the ethereal Angel More was sung beautifully by Kasia Borowiec. (The presence of MSM faculty member Ashley Putnam, who recorded this role at the Santa Fe Opera Festival may have been a factor in her preparation.) Also notable:  Margaret Newcomb, who played Lillian Russell with lashings of Thornton Wilder's Dolly Levi, an entertaining turn that owed as much to the creative costume designs Tracy Dorman than pure vocal ability.
The web of characters is firmly supported by Thomson's music. As played by Steven Osgood  and the MSM Orchestra remained simple and communicative. The score uses American folk tunes and waltzes as raw wool, which Thomson spins into gossamer threads that are real pleasures for the sophisticated ear. This music has a remarkable, direct clarity, from the descending figures associated with Daniel Webster to the long, lovely chamber-like quartet that opens the opera. The final scene, unveiling Susan B.'s memorial has a simple, heartbreaking power.