Otello at the Metropolitan Opera.
by
Paul J. Pelkonen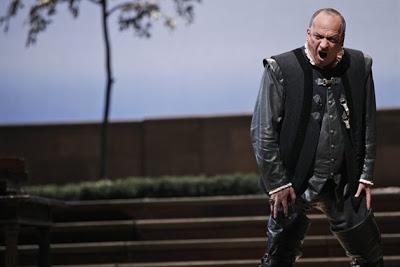 He is nothing if not critical: Falk Struckmann as Iago in the Met's Otello.
Photo © 2012 The Metropolitan Opera.
The Metropolitan Opera's ambitious slate of Verdi revivals continued this month with a revival of Verdi's
Otello
. The plan was to reunite tenor Johan Botha with soprano Renée Fleming, a pairing that proved potent in 2008. But on Tuesday night, Mr. Botha cancelled due to illness, leaving the challenging title role to Russian tenor Avgust Amonov.
This was only Mr. Amonov's second performance at the Met, but the imposing Russian tenor is not new to New York audiences. (He sang a strong Siegmund in the Mariinsky Opera presentation of Wagner's Ring at the 2007 Lincoln Center Festival.) He is an adequate actor with a voice that rings mostly true over this long role. But Otello is a beast of a part, and on Tuesday night, the beast won.
Verdi's version of the Moorish general starts as a larger-than-life figure, bellowing "Esultate!" in the opening storm scene of Act I. This 90-second arioso requires ear-splitting power and precise, clean high notes. Mr. Amonov over-reached on the last C, producing an unpleasant, piercing quality in his upper register. This problem was also evident in Otello's outburst in the second act, when Iago's subtle poison begins to destroy his mind.
To his credit, Mr. Amonov's performance improved greatly in the second half of the opera, as the big Russian tenor found his vocal footing. He was pitch-perfect in his slow, boiling portrayal of Otello's rage and breakdown, bringing a terrifying, hulking intensity to the third act. That menace also infused the murder scene, played with more intensity than one usually sees with the less mobile Mr. Botha.
With a weak Otello, Falk Struckmann's Iago emerged as the star of the show. Mr. Struckmann has a powerful, bold instrument, capable of harsh menace and crooning insinuation. The former was on display in the famous
Credo
 (an addition to the Shakespeare text by librettist Arrigo Boito) where the "honest" ensign lays out his philosophy of evil. He remained a compelling figure through the opera, drawing the audience into his schemes even as he orchestrated the destruction of the titular Moor.
The third player in this tragedy is Desdemona, wife, innocent and murder victim. Renée Fleming sang the role with experience and depth, her warm, orotund soprano and cool presence serving as balm and later irritant to her increasingly crazed husband. She silenced the house with the
Willow Song
and
Ave Maria
, drawing rapt applause. She has owned the role at the house since 1994, and continues to do so.
It was a welcome surprise to see James Morris (another great Iago in his time) in the smaller role of Lodovico, the Venetian ambassador, although it was odd to see Ms. Fleming trapped "between Iagos." Expert support was given by young tenor Michael Fabiano (as Cassio) and Renée Tatum as Iago's much-abused wife Emilia. Semyon Bychkov and the Met orchestra, fresh from their Sunday triumph at Carnegie Hall, played Verdi's complex music with relish.
This was the first time I've seen Elijah Moshinsky's production from orchestra seats (thanks to a good place on that day's rush tickets line.) Like most big shows at the Met, it plays better from lower in the house, with the use of stage carriages and elevators to produce some rapid-fire scene changes. Otello's gangplank did get caught on the house's famous gold curtain, but the problem as corrected in time for Mr. Amonov to make his entrance.
[email protected]