Angela Meade's Lucrezia Borgia bows at Caramoor.
by
Paul J. Pelkonen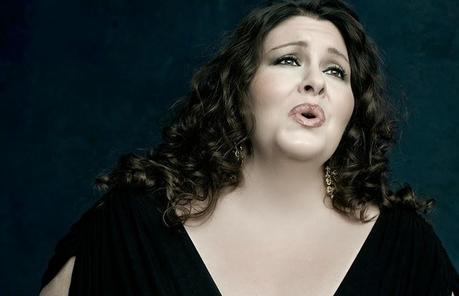 Pretty poison: Angela Meade is a deadly Lucrezia Borgia at Caramoor.
Photo by Dario Acosta © 2012 AngelaMeade.com
Although Gaetano Donizetti was one of the most prolific and popular composers of the 19th century, only a handful of his 71 operas have survived into the regular repertory of the world's opera houses. A recent revival of interest in
bel canto
repertory has led to a Donizetti revival, with operas like
Anna Bolena
and
Maria Stuarda
emerging from the fog of history.
On Friday night, it was the turn of
Lucrezia Borgia
, the composer's 1833 adaptation of a play by Victor Hugo. The Caramoor Festival chose
Lucrezia
to open this year's
Bel Canto at Caramoor
series, making a good argument for this tragic drama as one of the composer's most inspired creations. The performance, starring Angela Meade in the title role, played by the Orchestra of St. Luke's and conducted by Will Crutchfield also revealed this opera's place as a main inspiration for the mature operas of Giuseppe Verdi.
Ms. Meade first earned the attention of New York opera
cognoscenti
with a 2009
Norma
at Caramoor, establishing the Washington State native as a major force in
bel canto
interpretation. If anything, her performance as Lucrezia solidified that position, with the big voice powerful and present in the confined acoustic of Venetian Theater and its festival tent. This was a tremendous and triumphant return for the singer, who has grown as an artist and actress in the last five years.
She showed an astonishing breath control and range, from soft
pianissimi
high above the stave to a lower chest register that captured Lucrezia's evolution from concerned mother to angry agent of vengeance. This performance also allowed the audience a chance to hear Donizetti's original ending, with a fearsomely difficult
cabaletta
sung over the corpse of Genarro (Michele Angelini) the callow nobleman who is both the opera's hero and La Borgia's long-lost bastard son. (Friday night's encore will offer the revised version of the opera, where the two sing a duet as he dies in her arms.)
The plum aria in Act III goes to Maffio Orsini, (Tamara Mumford), Genarro's friend and fellow soldier. This is the brindisi "Il segreto per esser felice", sung by Orsini as that character and accompanying quartet of dipsomaniacs chug down the poisoned Spanish-style
vino
at the palace of Lucrezia's husband Don Alfonso. Ms. Mumford offered vocal thrills of her own, including an astonishing dive down to
contralto
low notes and a surge through Donizetti's playful ornamentation. Incidentally, it is impossible to hear this scene (with its offstage
banda
and chorus) without thinking of the Hornachuelos scene in Verdi's
La Forza del Destino.
If Lucrezia is the heroine of the evening, a villain is needed. Here, that's Don Alfonso, her fourth husband and the Duke of Ferrara. Greek bass Christophoros Stamboglis was powerful, resonant and utterly "black" of tone, the kind of voice that sends chills down the back even on a pleasant summer night. From his entrance aria in Act I to the following series of face-offs with Lucrezia, Mr. Stamboglis held his own. He sang with firm deep notes, matching her in volume and flashing anger.  Their big duet (with the moment where Lucrezia reminds the Don "who he's married to" drawing guilty chuckles from the audience) and  act-ending trio with Mr. Angelini was simply electric stuff,  Sparks flew between the singers and a dramatic intensity that made the viewer temporarily forget that this was a concert performance.
Mr. Angelini has an agile
tenore di grazia
, sounding ardent and sweet in his scenes in the Prologue with Ms. Mumford. However, as the drama bulled forward Mr. Angelini began to sound outgunned, getting drowned out by Ms. Meade in a key duet. The singers modulated accordingly in the later acts, but there was always the impression that Genarro was better suited as a sacrifice, one reinforced by the character's refusal to drink the antidote after being poisoned for the
second
time. (Genarro may be honorable but nobody said he was smart.)
One of the joys of
Bel Canto at Caramoor
 is the opportunity to hear up-and-coming singers. As Genarro and Orsino's quartet of drinking buddies, SungWook Kim, Will Hearn, (tenors) Kyle Oliver, (baritone) and Hans Tashjian (bass) acquitted themselves well, although they clumped awkwardly on the tiny stage of the Venetian theater. It was also good to hear tenor Cameron Schutza in the role of Don Alfonos's spy Rustighello, whose confrontation with agents of Lucrezia was another Act I highlight. The Caramoor Festival Chorus filled in detail onstage and off, with their best moment coming when they stood menacingly on one side of the stage and then (just as menacingly) opened their scores to sing. In an opera as dark as this one this moment of levity was most welcome.