The New York City Opera presents La Périchole.
by Paul J. Pelkonen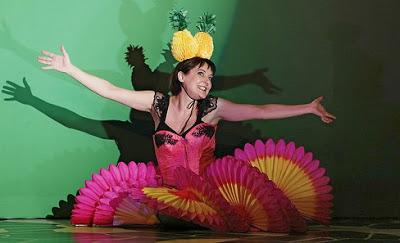 Pineapple express: Marie Lenormand in the title role of La Périchole.
Photo by Carol Rosegg © 2013 New York City Opera.
The
New York City Opera
wrapped up its spring season this week with Jacques Offenbach's 1868
opéra bouffe
La Périchole.
 The show marks the return of director Christopher Alden, whose surreal sensibility has become one of the company's hallmarks under general manager George Steel. The opera in question is a rarity: , originally set in the "exotic" city of Lima, Peru and reimagined here as a modern screwball sex comedy with visual tropes from the Marx Brothers comedies and
Monty Python's Flying Circus.
Opera bouffe
is the 19th century equivalent of English operetta or German singspiel, a form that made Offenbach's fortune in the late 19th century. The melodies range from frenetic, can-can like dances to pleasing arias filled with Offenbach's own brand of romantic
creme fraiche
. Strophic songs and choruses alternate with long stretches of spoken dialogue, presented here in the original French. The performance here is conducted stylishly by Emmanuel Plasson, with a strong performance from the City Opera Orchestra and Chorus.
Mr. Alden has a superb team of singers and actors, unafraid of amplifying the inherent theatrical absurdity of the libretto. The action onstage reaches a fever pitch repeatedly to the point where exaggerated mugging threatens to drown out the singing itself.  From the Greek chorus of three singing cousins (Naomi O'Connell, Lauren Worsham, Carin Gilfry) to the harried couple who are the opera's protagonists, everything is louder than everything else, with comic business seeming to erupt out of nowhere, becoming even funnier when it has very little to do with the threadbare plot.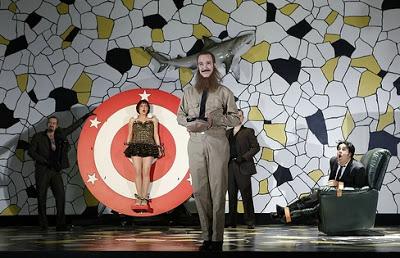 The interrogation scene from Act III of La Périchole. That's Kevin Burdette in the fake beard.
Photo by Carol Rosegg © 2013 New York City Opera.
Things get downright weird as the show progresses.There is a debauched, drunken pseudo-wedding, where Piquillo (Philippe Talbot)  and Périchole (Marie Lenormand) are united under a shower of cash from shattered piñatas. In an absurd prison scene, Mr. Talbot is bound (to a La-Z-Boy) while watching video footage of Mr. Burdette's (attempted) seduction of his beloved. She is then tied to a knife-thrower's wheel, and a strange interrogation climaxes with Mr. Littel's unsuccessful prison escape. The chorus searches the (darkened) theater with flashlights, and the heroes are found hiding in a giant dumpster (along with the piñatas.) But that's saying too much.
Leading the charge is Kevin Burdette, whose inspired, loose-limbed performance as the Viceroy of Peru recalls both John Cleese in his
Fawlty Towers
years (right down to the mustache) and Wile E. Coyote. From his Act I entrance (wearing a flying helmet, goggles and a cape) Mr. Burdette was the bouncing comic heart of the show, a kinetic villain that one can't help feel sympathy for. His Viceroy displays a complete lack of contact with reality, combined with an abhorrent sexual dysfunction that would do a Roman emperor proud. Happily, the singer is also equipped with a mellifluous baritone, which he wields in service of the music and the pursuit of the title character.
With all this frenetic activity, the relationship between Ms. Lenormand and Mr. Talbot remains the the emotional core of the show. Tthe two impoverished singers who have to overcome the Viceroy's interference (and a drunken arranged marriage) to achieve true happiness. Ms. Lenormand (Despina in last year's
Cosí fan tutte
) has a nimble, pliant mezzo-soprano and her own set of comic chops, giving a fearless and very funny performance. Mr. Talbot is an athletic tenor with a formidable upper range and command of the language--he makes Piquillo's Act II "hangover" aria a major musical highlight.
The chorus is central to the show, singing cleanly and tightly rehearsed. In fact, they play "drunk" for most of the  first act, climbing onstage in the first scene to receive freshly mixed grasshoppers from a white-jacketed barkeep, (Phililp Littel). (They're hung over in the second) Mr. Littel's comic capering (and bartending) is central to this show's success. Whether stage-managing props, mixing a longshoreman or playing a desperate prisoner determined to escape by tunneling through the wrong wall, the librettist turned actor engages the audience while singing very few lines and playing a very short bassoon solo. He matches Mr. Burdette in terms of comic mugging and physical flexibility, and that is no easy feat.