The Lyric Opera of Chicago presents Die Meistersinger. 
by
Paul J. Pelkonen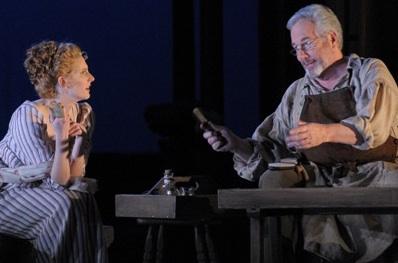 Generation gap: Amanda Majeski and James Morris in Lyric Opera of Chicago's
new Die Meistersinger. Image © 2013 Lyric Opera of Chicago.
The Lyric Opera of Chicago's new production of
Meistersinger
is one that might be familiar to
Superconductor
readers. It's the David McVicar production, which premiered at Glyndebourne in 2012 and was
recently released on DVD
. The Chicago version is pretty much the same production (with a few changes from director Marie Lambert). Most notable: the elimination of the stilt-walking fire-breathers following a rehearsal accident earlier this month. Sir Andrew Davis conducted a brisk, muscular performance.
On Wednesday night, James Morris returned as Hans Sachs, a role the 66-year old bass-baritone has specialized in his post-Wotan years. He still keeps bottles, wine glasses and tankards handy to wet his instrument--
just as he did in 2007
. However, all that refreshment does not change one fact: the voice has hardened. Much of the luster and bloom that used to make Wagnerians swoon is missing. This performance, at the head of a generally strong cast was a textbook example of what a fading star can do with his remaining resources.
The problems started in Act I. Sach's lines had hard-edged tone that had little supporting it and fading in the complex ensemble that brings down the curtain. However, Act II's
Flieder
monolog showed that the singer had merely been saving his instrument for the long haul of this marathon work. He sounded downright jolly in the Cobbling Song, trading barbs with Beckmesser (Bo Skovhus) and generating Wagner's particular brand of medieval urban mischief.
All that conservation paid off in the first half of Act III, when Mr. Morris sang a powerful, finely detailed
Wahn
monologue, generating rich, thoughtful phrases and the occasional floated note from his head voice. His scene with Beckmesser was an unexpected treat, helped by some physical comedy from Mr. Skovhus. Mr. Morris finished the long night with a strong final address, adding weight and meaning gained from his long experience interpreting Wagner.
Mr. Skovhus, an internationally acclaimed
lieder
singer and one of the first generation of "bari-hunks", puts on a silly wig and takes an intellectual approach to Beckmesser. Here, the town clerk is would-be-lover and pedant, caught between those two ambitions. His snarky triumph in Act I skewered all who would put the word "critic" in their job description. The Act II riot scene and its aftermath generated sympathy, as did the singer's finely played mangling of the Prize Song. In the end, he sat apart from his fellow Mastersingers and stalked off stage left, refusing Sachs' offer of reconciliation.
Johan Botha remains a bluff, energetic leading man who can sing this difficult role with lyricism and warmth, though his acting style generally consists of figuring out when to fly into a rage and threaten to draw his sword. He was well matched with the young Amanda Majeski as Eva, who looked the part but also sang prettily. Her soprano could sustain Wagner's lyric lines and has just enough vibrato to be interesting.
Tenor David Portillo was a bustling and energetic as Sach's apprentice (also named David), with a fine, clear instrument. The mezzo Jamie Barton proved once more that she is a star on the rise, bringing vocal and comic chops to the smaller role of Magdalena. Also impressive: Russian bass Dmtry Ivashchenko as Eva's father Veit Pogner. His rich, baritonal coloring and deep bass notes reminded this listener of a younger James Morris. This is Mr. Ivashchenko's first role at the Lyric. Some day, the assignment may be Sachs.