MSM presents Kurt Weill's Mahagonny.
by
Paul J. Pelkonen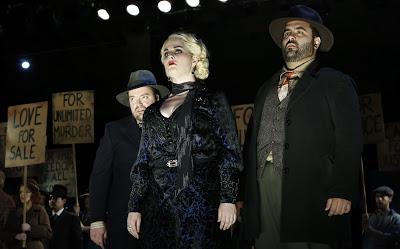 Peter Tinaglia (left) Rachelle Pike and James Ioelu are the founders of Mahagonny.
Photo © 2013 Manhattan School of Music.
On Wednesday night, the brilliant and enthusiastic student artists of the Manhattan School of Music mounted a new production of
Aufstieg und Fall der Stadt Mahagonny
(" Rise and Fall of the City of Mahagonny") at Borden Auditorium, delivering the show's searing moral message with a performance of high artistic quality. A taut performance from the MSM Orchestra under the baton of Kynan Johns caught the wry humor in Kurt Weill's score, with aural references to American jazz, Mozart and even Wagner's
Parsifal
shining through the aural fabric.
Kurt Weill's second operatic collaboration with Bertold Brecht, 
Mahagonny
  is a scathing indictment of self-indulgence and Western capitalism, through the metaphor of a completely corrupt city that destroys its citizenry through their own greed. Brecht and Weill's original target was the corruption of Weimar Germany. In today's capitalist culture, the anti-morality play of Brecht's libretto has more resonance than ever.
Each scene opens with a title card, starting with the founding of Mahagonny bu three escaped criminals after their truck breaks down in the middle of nowhere. The libretto chronicles the arrival of prostitutes and lumberjacks, and the near destruction of Mahagonny by an oncoming hurricane which veers at the last moment. Spurred to new heights of debauchery, the opera climaxes with the bad death of Jimmy Mahoney (Aaron Short) who loses all his money gambling and is electrocuted because he can't pay his debts.
Mr. Short has a powerful, robust tenor with a brassy sheen and a pleasing upper register. He was compelling  in expressing the pathos of Jimmy, who becomes an empathetic character once his life is on the line. "Wenn der himmel hell wird" opened the third act in an aria that would be more moving if it were not  a spot-on parody of Beethoven's
Fidelio.
He was well matched with Cree Carrico as Jenny Hill, a prostitute whose commerce-based relationship with Jimmy is the cynical "love" story at this opera's hollow heart. (Oddly, Mr. Short's last opera at MSM was
Thaïs,
where his character also had a sweet tooth for professional ladies.)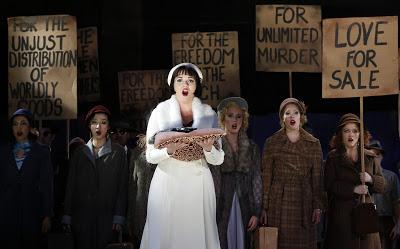 Jenny Hill (Cree Carrico) leads the funeral procession in the finale of Mahagonny.
Photo © 2013 Manhattan School of Music.
Ms. Carrico's enters at the head of a troupe of streetwalkers, singing the
Alabama Song
, a ditty that has become this show's signature tune thanks to The Doors.Her searing Act II performance of the cynical "Denn wie man sie betegt", echoing Jimmy's nihilist philosophy at a moment that happens to condemn him to death was a show highlight. She made the amoral Jenny seem almost human: the one person in Mahagonny who shows regret at his death, as her quest for the next "whiskey bar" becomes Jimmy's funeral lament.
Mahagonny was founded by a superb trio of escaped criminals. James Ioelu had muscle and menace as Trinity Moses. Rachelle Pike played Widow Begbick as a serpentine madame, selling love in the brothel and feeding the city's corruption. As Fatty the Bookkeeper, Peter Tinaglia had a supple tenor, supporting the ensembles and engaging in the grim comic business of Brecht's libretto. Also impressive: Brett Harrison Vogel, Jason Cox and Scott Ingham as Jimmy's lumberjack "brothers", done in by the vices of Mahagonny. They were complemented by a taut, well-trained chorus who balanced the humor and seriousness of this complex show in the four choral numbers celebrating the pleasures of Mahagonny: gluttony, lust, boxing and of course, alcohol.
Director Dona D. Vaughan made the bold decision to have these young singers perform the show in German, with English dialog (translated by Michael Feingold.) The jarring change of languages (sometimes in the middle of a line) and simple sets (tables, chairs, and an antique flatbed truck) divided by an ordinary shower curtain contributed to the sense of alienation, rot and decay. The low-budget approach suits the back-alley sleaze of Brecht's mythical city with the second act featuring a trash-bin skyline that recalled New York's current obsessio with overdevelopment. In Brecht's cracked mirror, a great city is truly reflected.