Two Rare Rossini Operas at Juilliard.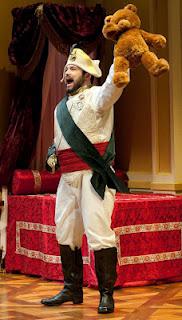 Nobody move or the bear gets it:
Leo Radosaljevic as Tobia in
La cambiale di  matromonio.
Photo by Nan Melville for the Juilliard School.

Giaochino Rossini was one of the most astonishingly prolific opera composers of the 19th century, firing off 39 operas before retiring at the age of 39. The Juilliard Opera program is currently presenting two his early gems: La cambiale di matromonio ("The Marriage Contract") and La Scala de Seta ("The Silken Ladder").
When Rossini started writing comic operas, he started with the farsa. These are forgotten works: one-act comedies with a small cast, no chorus, and a lighter-than-air plot, anchored by romantic misunderstanding. But these early efforts show promise of the comic genius to come, containing musical harbingers of L'Italiana in Algeri and Il Barbiere di Siviglia.
The two works were played in the Meredith Willson Theater,built in the "new wing" of Juilliard that overlooks Broadway. Director David Paul opted for a simple unit set in this black-box space, that could be adjusted to portray different rooms. The music was provided by Daniel Fung and Brent Funderbunk, who played both piano and harpsichord. Vlad Iftinca conducted cut versions of each opera.
 A Juilliard performance always affords the chance to hear tomorrow's stars. In La cambiale the finest singing was from Chinese soprano Ying Fang, as Fanny. She is a tiny spitfire coloratura with a good voice and some stunning top notes. She was well matched with tenor Cullen Gandy, who took the role of Edoardo with bel canto style.
Fine comic baritones are the life-blood of Rossini's opera buffa. Leo Radosavljevic played Tobia Mill with fine buffo style. This is a prototype for the over-protective guardians that became a Rossini plot staple. John Brancy was even better as Slook, the would-be suitor for Fanny. Mr. Brancy made the most of his comic opportunities as this "ugly American", going from flag-waving bombast to comic fear and belligerence. Their duel scene at the end of the opera pitted Tobia (in Napoleonic military regalia) against Slook (with a necktie around his head and wielding a tomahawk.) It was a moment of comic insanity that looked forward to the Act I finale from The Barber of Seville. 
La Scala di Seta does not have as strong a libretto as the first opera, but a game cast made the most of this meager comedy. It is what Americans think of as a "French farce", complete with lovers hiding behind room dividers and racing up and down the titular silken ladder that grants access to the leading lady's boudoir. The cast made the most of their opportunities for physical comedy, although the quick changes and concealments eventually grew tiresome.
JeongCheol Cha was the best singer here as Germano, a doddering, interfering butler with a tendency to fall asleep at the worst possible times. The young lovers, Kyle Biefield and Lara Secord-Haid were engaging enough. Mention must also be made of baritone Takaoki Onishi. By playing the rival Blansac as God's gift to women, he found and exploited some real comic opportunities. 
La cambiale di matriomonio and La scala di seta will be performed on Feb. 9. Tickets are free, but limited.