L'Elisir d'Amore opens the Metropolitan Opera's 2012-2013 Season.
by
Paul J. Pelkonen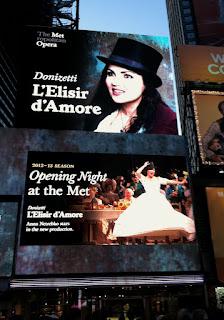 Opening night in Times Square. Photo by the author.
Original images by Nick Heavican (top) and Ken Howard (bottom)
© 2012 The Metropolitan Opera.
The Metropolitan Opera opened last night with the company's first performance of a new production of Donizetti's
L'Elisir d'Amore
starring Anna Netrebko. Ms. Netrebko was reunited with her tag-team partners from a successful 2010
revival of
Don Pasquale,
tenor Matthew Polenzani and baritone Mariusz Kwiecień.
It's true that the Met was due for a new
Elisir.
John Copley's shopworn 1991 production had soured with audiences, despite an energetic run of the opera last spring. The choice also allowed the Met marketing department to keep Ms. Netrebko's flashing, dark eyes at the heart of its city-wide campaign. However, this was an uninspired choice to kick off the season at a time when opera needs to make itself relevant.
Bart Sher's new production is conservative, lacking the distinct directorial mannerisms and surreal humor that prevailed in his three previous outings for the Met. The sets (by Michael Yeargan) are realistic and picturesque. Catherine Zuber provided elaborate costumes and rich fabrics that ground the opera firmly in the reality of the 19th century. The only oddity is a preference for high black hats: indeed everyone except Mr. Polenzani gets to sport one at one time or another.
The performance (seen by this writer in the audience for the Times Square simulcast) went off without a hitch. Mr. Polenzani continues to quietly carve a career as one of the company's genuine stars, singing  "Quanto e bella" and "Una furtiva lagrima" with heart-melting passion and beautiful, floated notes. With Mr. Sher's help, Mr. Polenzani transformed Nemorino from a befuddled bumpkin to a nice guy with genuine appeal, unveiling a wicked sense of humor to match his fine voice.
In a backstage interview, Anna Netrebko again professed her her passion for
bel canto,
and comic opera. Here, she is a ferocious Adina, throwing her body across the stage, leaping onto furniture and wielding a riding crop in a duelling duet with Mr. Kwiecień.The ringing high notes were intact, and she navigated the
parlando
passages smoothly. If anything, her voice sounded a little large for the role, threatening to overpower her duet partners with the exception of Ambrogio Maestri.
The third member of this comic
troika
is Mr. Kwiecień, reprising his swaggering and very funny Belcore at a higher energy level than his performance six months ago. (Maybe it was the new hat, a towering shako complete with a ridiculous, but very military beaver-tail). His entrance in the first act pepped up the show, and a tight, well-rehearsed "Venti scudi" duet with Mr. Polenzani seemed to detonate in the second act.
Mr. Maestri is not a well-known singer in New York, but this swaggering, rollocking turn as Doctor Dulcamara might do much for the big Italian's reputation as a comic bass. He was an inspired, unconventional choice for the part, swaggering onto the stage with "Vendito O rustici" and dominating the action every time he appeared. The unexpected was in the Act II
barcarole
, where Mr. Maestri chose to sing the notes instead of engaging in the usual nasal "comic" business.
Despite energetic conducting by Maurizio Benini, the first half of this
Elisir
was decidedly prosaic. Things got better with Mr. Maestri's arrival, and the opera jelled in the Act I finale. Here, Donizetti's complex set of changing emotional states came across as touching and genuinely funny, drawing laughs from the assembled viewers in Times Square. Mr. Polenzani and Mr. Kwiecień were particularly excellent in this comic confrontation, with Ms. Netrebko as the object of their affections driving their rivalry to near violence.
This was the first time that I had attended a Met simulcast in Times Square. This year, the company added screens on either side of Duffy Square, with chairs set up to view multiple giant billboards that came alive with sound. While the hard chairs were a decided downgrade from the Met's worn red velvet, a strong, rich amplification system and clearly engineered sound made for an excellent opera experience despite the hubbub of midtown Manhattan going on around the little audience.