Don Giovanni returns to the Met.
by
Paul J. Pelkonen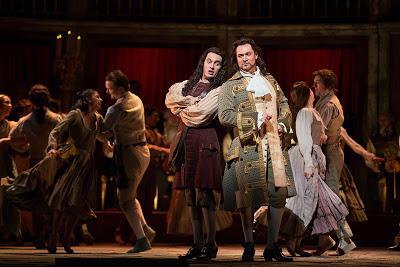 "Want to switch?" Don Giovanni (Ildar Abdrazakov, l.)  negotiates with Leporello (Erwin Schrott, r.) 
in Act I of Don Giovanni. Photo by Marty Sohl © 2012 The Metropolitan Opera.
On Wednesday night, the Metropolitan Opera revived Michael Grandage's 2011 production of
Don Giovanni
, which sets the action against a curved, sliding wall of louvered doors that (to this writer) recalls the façade of certain seedy motels in Wildwood, New Jersey. The show's biggest success:  Ildar Abdrazakov, whose bellowing, hyper-testosteroned take on the title character made him an energetic and charismatic leading man.
This reviewer saw Mr. Abdrazakov's
Don
a few months ago
. He still purrs and fawns during "La ci darem la mano" and achieves a manic glee in the Champagne Aria. He still prowls with a catlike presence and charisma. And he remains compelling in the Damnation Scene, going (quite literally) down in flames as he bellows his last notes at the statue. (Note on that effect: although it was a major talking point of this new production last year, it (along with the rest of this staging) has outworn its welcome.) If anything, the Russian bass seemed more restrained in this show, toning down the excesses and working within the context of the ensemble.
In this cast, Erwin Schrott moves from singing the Don to Leporello. As the put-upon servant, the  bass-baritone seemed to yearn for his old role: macking on the ladies instead of carrying the catalogue. He undermined his performance repeatedly, with comic mugging and repeated attempts to one-up Mr. Abdrazakov. However, his Catalogue Song sparked the first act, bringing a sluggish opera to life The Act Two "seduction" scenes with Donna Elvira (Emma Bell) were a comic highlight.
Donna Anna is difficult to make three-dimensional, but Susanna Philips did her best last night. The Southern belle sang with a bright, silver tone that hovered above the stave and took flight in "Or sai chi l'onore." This famous aria was delivered with firm, ringing notes that bloomed and swelled into the house. Better yet, it was
acted
. She was also impressive in "Non mi dir.", finding the character's heart beneath the ice.
Less pleasing: Emma Bell as Donna Elvira. The British soprano flounced about in a ridiculous hat left over from Hello Dolly, producing a narrow, somewhat coppery tone in her confrontations with the Don. Ms. Bell played Elvira as Giovanni's stern conscience, determined to ruin his sex life in the hopes of winning him back. She had far better chemistry with Mr. Schrott in Act II, and her voice seemed to unpack and finally flower in "Mi tradì."
Queens native Charles Castronovo has sung comprimario parts at the Met since 1999. Last night was the tenor's coming-out party, in the unlikely role of Don Ottavio, the milquetoast boyfriend of the fiery Donna Anna. He made the most of his promotion to the front line with a lovely "Dalla su pace" and a less beautiful, but intimate "Il mio tesoro." Instead of making it a second spotlight solo, this aria was thoughtfully sung to the other cast members as they went off to comfort his beloved.
As Zerlina, Ekaterina Siurlina was an appealing presence, more than a coquette as she brought meaning to her two arias. David Soar made his debut as Masetto, bringing a thin baritone that belied his burly stage presence. Veteran Met bass Raymond Aceto was a sonorous Commendatore, unamplified in the final conflagration with a rich tone that brooked no arguments. Edward Gardner's conducting lacked inspiration and drive in the famous Overture, but the opera found its footing halfway through the first act.
The stage direction (reworked by newcomer Louisa Muller) was something of an improvement on last year. However, the collossal statue of the Commendatore (seen briefly in Act Two) looked to suffer a system crash as the head locked in place. Christopher Oram's designs are still unattractive, dominated by the moving, curved walls that provide lots of entrances and exits but very little room for the singers to act.