Opera Boston mounts Béatrice et Bénédict.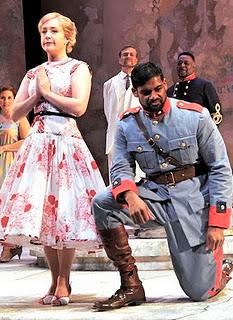 Lady Disdain: Julie Boulianne (Béatrice) 
spurns Sean Pannikar (Bénédict.)
Photo by Clive Grainger © 2011 Opera Boston.
Opera Boston continues to delve into adventurous repertory with Hector Berlioz' rarely heard Shakespeare opera Beatrice et Bénédict. Distilled from the pages of Much Ado About Nothing, the opera focuses on the romantic sparring of its two title characters. Tuesday night's performance, reviewed here, was the last of the run at the Majestic Theater. 
Tenor Sean Pannikar and mezzo Julie Boulianne made their company debuts in the title roles. Mr. Pannikar has a clear, pleasing tenor that compresses slightly when he rises above the stave. Forced to switch between sung French and spoken English for the duration of the opera, Once through Bénédict's long Act I monologue, Mr. Pannikar's performance took flight when Shakespeare's words yielded to Berlioz' music.
Ms. Boulianne is a French Canadian mezzo who faced similar problems, delivering the spoken dialogue with awkward flourishes. Her fine-pointed, dusky mezzo was suited to Béatrice's pert nature, but her mannerisms made this a difficult heroine to love. She improved in the second act, singing the gorgeous trio and bringing real warmth to her reconciliation and eventual marriage.
Although Béatrice is the opera's titular heroine, her cousin Hero (soprano Heather Buck) gets some of the best music to sing. The Nocturne, sung by Hero and her handmaiden Ursule, (Kelley O'Connor) wove a spell of Berliozian magic. In a manner reminiscent of the Dance of the Sylphs in La Damnation de Faust, it brought Act one to a subtle, gorgeous close.
One of Berlioz' better additions to the play is Somarone, a music master played here by baritone Andrew Funk. A conductor/composer (like Berlioz himself), this fellow's preening, fawning behavior allowed the composer to have little fun at the expense of his profession. Mr. Funk played the part for laughs, particularly the Wagnerian bit about using a particular baton to create darkness and light from his orchestra. As his performers left in disgust, one thought of Haydn's Farewell Symphony. Finally, he led the Act II Improvisation (a bawdy drinking-song) with gusto.

This is Berlioz' fourth and final opera, and his second entry in the genre of opéra-comique. In this style, spoken dialogue is used instead of recitative, interpolated between the arias and ensembles. Since French speech is usually delivered a a rapid clip, it can be challenging for an American audience to follow, even with surtitles.
The solution chosen here was to use an English translation, culled mostly from Shakespeare's text by director David Kneuss. Mr. Kneuss' work was sometimes awkward, as the characters delved in and out of iambic pentameter in a struggle to meet the needs of the libretto. The production, moved to a 20th century setting in sets suggesting a Tuscan villa, was a low-budget nod to Kenneth Branagh's movie version of the play.
All of the singers seemed uncomfortable delivering the dialogue, with even the lesser members of the cast falling prey to over-exaggeration. In the pit, music director Gil Rose did his best to compensate. Although the famous overture was curiously muted, the later pages of the opera sparkled, and the final double-marriage scene ended the evening on an upbeat note.